3.19.2021
Song: Beanz – "Crackin'" (Prod. JetsonMade)
The Pennsylvania Native Talks Relationships and Fame Over JetsonMade's Booming 808s In Her Latest Single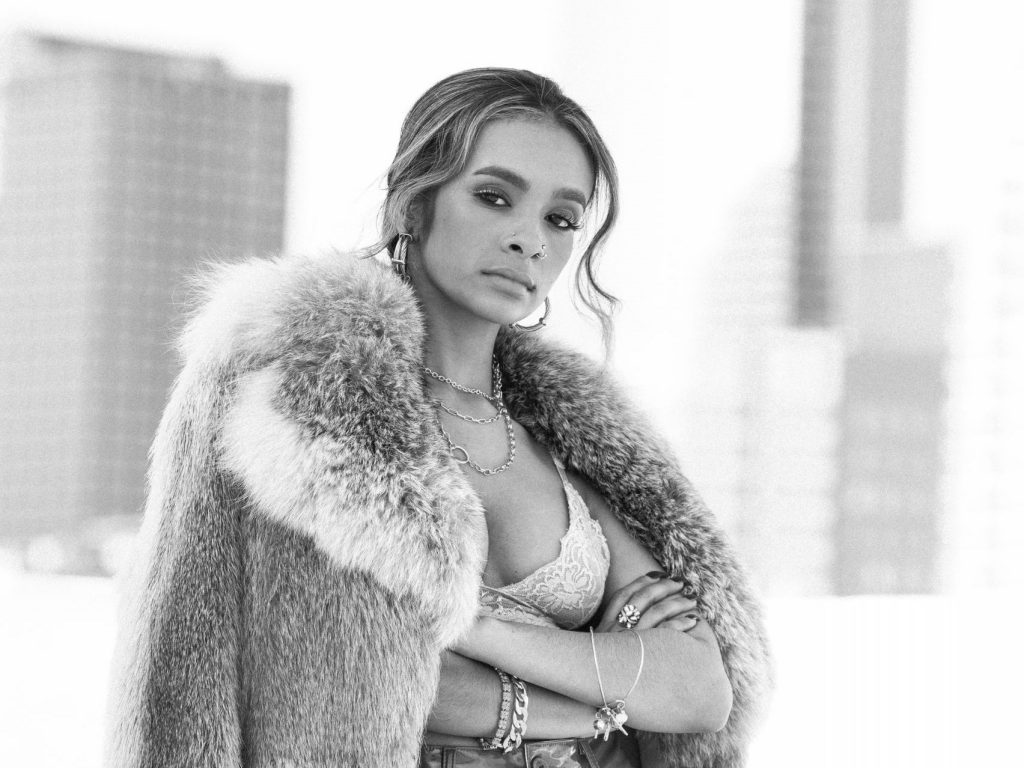 Critical Praise:
"With a controlled vocal cadence and effortless flow, you are bound to be a fan upon your first listen." – Grungecake
"She has the type of voice that you could never confuse for anyone else's." – Def Pen
The Song:
Rising rapper Beanz has a fierce attitude, show-stopping charisma, and a voice that leaps out of the speakers and delivers a smack in the mouth. Taking no prisoners on her new single, the Reading, Pennsylvania native shares "Crackin'." Fearlessly attacking thumping 808s and whirring flutes, courtesy of hitmaking producer JetsonMade, Beanz spits some real talk about relationships, making it very clear that she's not somebody who will be used or use her body to get ahead: "Half of you b*tches is dyin' out/Beggin for n****s to fly you out/Makin your money by lyin down/F*ck is you sitting here lyin' bout?" As the song proceeds, the former Rhythm & Flow contestant assures the listening public that she's destined for stardom: "I will never let this sh*t change me/I had to get it no matter the plan/I was just lucky to have me a chance/I made them b*tches get madder again.
Born and raised in Reading, Pennsylvania, a mid-sized city located between Philadelphia and Harrisburg, Beanz started on her artistic path at the age of 12, when she started writing poetry to escape her household struggles. As she grew older, her poems turned into rap songs, and she developed a reputation as the best rapper in her city. Beanz brought her artistry to a larger audience when she joined the cast of Rhythm & Flow, Netflix's first-ever reality competition show. Though she didn't win, Beanz became a fan favorite, winning the affections of many with her lyricism and take-no-prisoners attitude. Since Rhythm & Flow, Beanz has been active, releasing successful singles like "Can't Call It" (over 1 million streams across platforms) and collaborating with Dizzy Wright for "Sick Of Complaining." Last week, Beanz jetted to the West Coast and shared the video for her "Waves" freestyle, which featured a cameo appearance from Bay Area sound architect P-Lo, who produced the track.
Determined to raise her game, the artist is preparing to drop a deluge of new music, including a forthcoming project set to arrive in the spring. Haters take note: there's no stopping Beanz season.
Watch "Crackin" Visualizer: https://youtu.be/JsetE8Ofwd0
Buy/Stream "Crackin" (Prod. by JetsonMade): https://beanz.ffm.to/crackin
The Background:
Beanz became an artist at the early age of 12 when she starting writing poetry to calm the ease of her struggles within her household. With a father who was incarcerated, her mother assumed a lot of the parenting role in her household until her teenage years. Coming from an inner-city background, Beanz began to develop a love for hip hop and decided to take her artistry seriously in pursuing it as a profession. She was known in her hometown as "that girl who was spitting rhymes in the back of the bus". As expected, her talent came natural, she began studying the art of lyricism and began perfecting her craft into the wordsmith you hear today.
After years of releasing videos, viral freestyles and several mixtapes, Beanz was asked in 2019 to be a participant in Netflix's 1st ever music contestant show, Rhythm and Flow. The show became a huge worldwide sensation and trended #1 for 4wks in a row. Among over 50 contestants who would be eliminated, Beanz left her impression as one of the fan favorites despite her not winning the show, earning her a handful of notable publications and write ups highlighting her effortless lyricism and wordplay. Her first single "Cant Call It" released late July, and has already garnered over 1 million streams on DSPS, and the video over 500k views. The future looks beyond bright for Beanz, as the world needs more intellects should can make conceptual music that will stand the test of time and get us all through, especially with the climate of society in these transcending times. Look for Beanz to garner the attention and large success she is destined for in the coming year.
---
Links:
instagram | twitter | spotify | youtube

"Crackin" (Prod. by JetsonMade): https://beanz.ffm.to/crackin
"Waves" (Prod. by P-Lo): https://www.youtube.com/watch?v=Ud7HUPVteYc
"Trending Topic": https://beanz.ffm.to/trendingtopic / https://youtu.be/TstJJVm7wUU