2.5.2021
Video: bbno$ & Diamond Pistols – "Help Herself"
The Multi-Platinum Selling Rapper Shares a Visually Striking Clip for His Rising Hit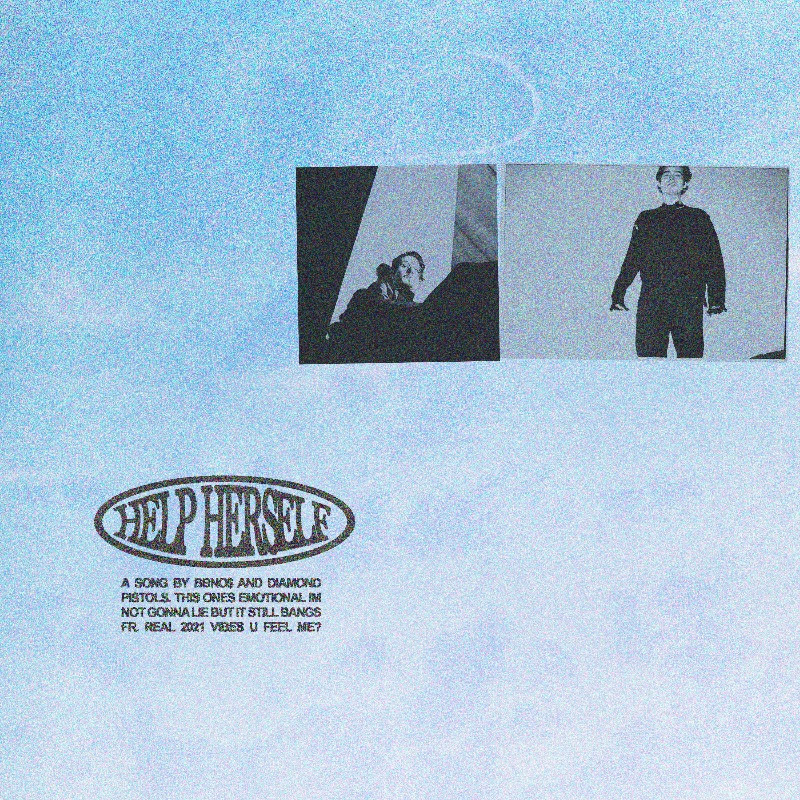 Critical Praise:
"How Y2k and bbno$ Turned 'Lalala' Into a Hit, One Tinder Match at a Time" – Rolling Stone
The Video:
Known for his lyrical wit, independent hustle, and striking music videos, bbno$ has taught his massive fanbase to expect the unexpected. Teaming up with Diamond Pistols for his latest curveball, the usually-sardonic emcee opened up his heart for "Help Herself," his tender new single. Today, bbno$ shares the video for "Help Herself," which adds a dose of quirky charm without taking away from the vulnerable lyrics.
Directed by Shiraz, the video finds the rapper dancing in scenic locations around his hometown of Vancouver, from an abandoned basketball court, to an industrial park, to a suburban street. The video gives the "no moneyed" rapper an opportunity to show off his supernatural thrift store skills in a series of colorfully snazzy outfits as he bops to Diamond Pistols' insistent acoustic guitars and propulsive percussion.
Says bbno$: "this is bbno$ dancing in a bunch of outfits. the water shot was painful. gum boots had holes and my feet were frostbitten for 4 hours."
Since its release last Friday, "Help Herself" is quickly making a major impact on streaming and beyond. The song is racking up over 200k streams per day on Spotify, for a total of more than 1 million in less than a week, after earning placement on Spotify's New Music Friday, Singled Out, Anti Pop, and Pop Sauce playlists. "Help Herself" trended on Apple Music's "Hot Tracks," and made its way onto Apple's New In Pop, New In Alternative, Alt Ctrl, and Alt Pop playlists. Garnering praise in outlets like SPIN, HotNewHipHop, and Lyrical Lemonade, the song is already starting to make an impact on radio, and is currently trending on Shazam in the United States. The 25-year-old artist offered a sneak peak of "Help Herself" on Rolling Loud's The Leak on Twitch.
Eager to prove himself as a major, multi-faceted artist, bbno$ is a man on a mission in 2021, ready to make "Help Herself" his biggest hit since 2019's double-Platinum "Lalala." Stay tuned for much more music in the weeks and months to come.
Watch "Help Herself": https://youtu.be/I6RVE0xYjoI
Buy/Stream "Help Herself" (w/ Diamond Pistols): https://ffm.to/helpherself
For inquiries, please contact: Kerry Harrison / Kevin Grossi, Audible Treats
The Background:
bbno$ (pronounced "baby no money") is a 2-time JUNO Award nominated rapper from Vancouver with over 2 billion streams of his music. He recently released his 4th album good luck, have fun, which debuted as the #8 album in the world on Spotify. His videos have been watched 1.2 billion times, his songs have been used in 10 million+ TikTok videos and viewed 2 billion+ times. He's sold out headline tours in North America, Australia, China, and Europe. He is a case study in how to succeed globally as an independent artist, and has captured the attention of fans around the world through his clever rhymes, catchy hooks and endlessly entertaining personality.
---
Links:
instagram | twitter | youtube | spotify | tiktok
"Help Herself" (w/ Diamond Pistols): https://youtu.be/I6RVE0xYjoI
"Wawawa" (w/ Y2K): https://y2k.lnk.to/WAWAWA
"Lalala"(w/ Y2K): https://y2k.lnk.to/lalala
"Lalala Remix" ft. Carly Rae Jepsen & Enrique Iglesias(w/ Y2K): https://y2k.lnk.to/LaLaLaRemixpu
good luck, have fun: https://fanlink.to/listentobbnomula