10.15.2021
Video: BandGang Lonnie Bands – "Foreva Rollin" ft. BIG30
"Foreva Rollin" is the Latest Video From Lonnie's Latest Album Hard 2 Kill, Acclaimed by Pitchfork and More, With Features From Young Nudy, OhGeesy & More
Critical Praise:
"For once, everything in Detroit hip-hop is clicking, and KOD is a step closer to Lonnie reaching a breakthrough that so many Detroit icons before him couldn't." – Pitchfork
"He's been a prominent figure in Detroit since the mid-2010s." – Pitchfork
The Video:
With a laidback demeanor that belies the intensity of his lyrical content, BandGang Lonnie Bands is one of the key figures of Detroit's bustling rap scene. Painting a vivid picture of his large-living life in the trenches, Lonnie shares "Foreva Rollin," his latest video. Produced by Foreva Rollin, who gives the track its name, the song is a propulsive anthem dominated by stuttering blasts of bass and piano loops that would feel at home in a Michael Myers Halloween film. Lonnie goes toe-to-toe with Memphis riser BIG30, his fast-talking flows contrasting with 30's easygoing drawl, both rhymers discussing their heavy status in the trap game: "This sh*t would blow your mind if you knew how much these pills cost," states Lonnie. In the video, directed by Lonnie's frequent collaborator AZA, Lonnie and 30 stunt in Detroit with a large crew, as they show off their car collection and flash wads of cash for the camera. "Foreva Rollin" is a highlight track from Hard 2 Kill, Lonnie's critically acclaimed new album.
Arriving months after Lonnie survived a near-fatal shooting incident, Hard 2 Kill brims with a sense of energy and urgency that adds drama to each piano riff and 808 thump. On the album, Lonnie rhymes with a new level of fearlessness, discussing his exploits in the streets, demonstrating his rap supremacy, and daring the opps to take another shot at him. H2K benefits from Lonnie's spectacular ear for beats, each of which slyly subverts the kinetic, piano-heavy Detroit sound that he helped popularize with BandGang, as he samples Eminem on the mischievous "Where's Marshall" and uses Eastern stringed instruments in recent single "Glocks & Choppas." Praised by Pitchfork, Stereogum, Consequence, HowNewHipHop, and many others, and with guest spots from EST Gee, OhGeesy, Young Nudy, BIG30, Reece Young'n, OnFully, and more, Hard 2 Kill is available everywhere via TF Entertainment.
With over 100 million YouTube views in the bank, BandGang Lonnie Bands is ready to prove that he's one of the best bar-for-bar rappers in the game today. He made his name as one of six members of BandGang, a Detroit collective that helped bring the piano-heavy sound that now dominates Detroit to the forefront. The 26-year-old rapper made his name as a solo act with his KOD project, acclaimed by Pitchfork, and expanded his audience with guest appearances on tracks by Shoreline Mafia, Drego & Beno, and more. Though the last two years have been hard, punctuated by Lonnie's near-death experience and the loss of several close friends including BandGang Paid Will, the rapper emerged from his trials stronger as a man and an artist, determined to support his family by doing what he loves most–making music.
Watch "Foreva Rollin" ft. BIG30: https://youtu.be/l12a3SmnErw
Buy/Stream Hard 2 Kill: https://push-distro.lnk.to/Hard2Kill
Hard 2 Kill tracklist:
H2K
Rich And Dangerous
Bullet Proof
Hot ft. EST Gee & The Big Homie
Where Is Marshall
Marlow
Glocks & Choppas ft. Young Nudy
HI5 ft. VVS Beezy
Gnarley ft. Nhale & IAmTK Peso
Snow ft. OhGeesy
Lock Jaw
Foreva Rollin ft. BIG30
Shoulda Got A Verse From Drake ft. OnFully
Big Creature
Murdah
Gate Keeper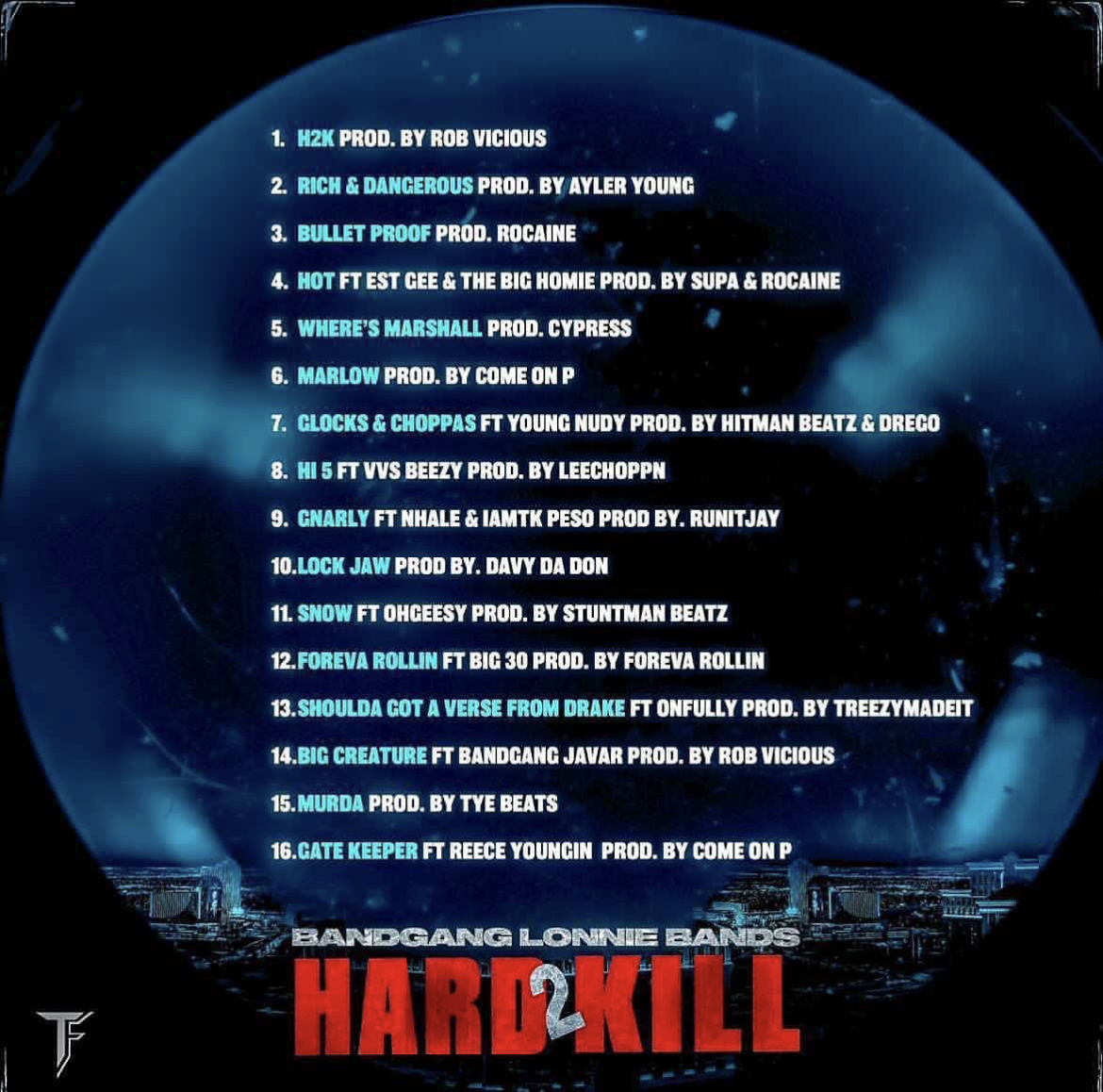 Please contact Michelle or Myles  for more info.
The Background:
"I got something to prove right now. I feel like my breakout moment hasn't even come yet," declares BandGang Lonnie Bands. A forefather of Detroit's ongoing Rap renaissance, Lonnie has amassed over 100 million video views across dozens of tracks and visuals that stream into the six and seven figures. Introduced as a standout member of the six-man BandGang crew, Lonnie has carried that momentum into collaborations with Shoreline Mafia, ShredGang, and others. However, after a string of mixtapes and albums, the pressures in BandGang Lonnie's private life affected his stride. "I lost everybody," he admits of tragedies throughout his family, rap group, and inner circle. Over two years, pain transformed into perseverance. On October 7, BandGang Lonnie Bands emerges with his H2K album. Hard To Kill refuses to retreat. Across 16 songs featuring Young Nudy, BIG30, EST Gee, and others, Lonnie insists his moment has arrived. "Can't nobody mess with me on this one. This album is coming from the soul."
---
Links:
instagram | twitter | apple | spotify | youtube
"Foreva Rollin" ft. BIG30: https://youtu.be/l12a3SmnErw
Hard 2 Kill: https://push-distro.lnk.to/Hard2Kill
"Glocks & Choppas" ft. Young Nudy: https://www.youtube.com/watch?v=91M-jW_CA4w
"Hot" ft. EST Gee & The Big Homie: https://www.youtube.com/watch?v=T9CmoL-EilQ
"Shoulda Got A Feature From Drake" ft. OnFully: https://www.youtube.com/watch?v=AhK9f3UcGPo