10.7.2021
BandGang Lonnie Bands Shares Hard 2 Kill, His New Album, Out via TF Entertainment
The Detroit Rapper Packs Heat with Young Nudy in the Video for Album Highlight "Glocks & Choppas"
Featuring Additional Appearances From EST Gee, OhGeesy, BIG30, and More, Hard 2 Kill Arrives As the Influential Artist Endures a Grueling Year and Emerges Even Stronger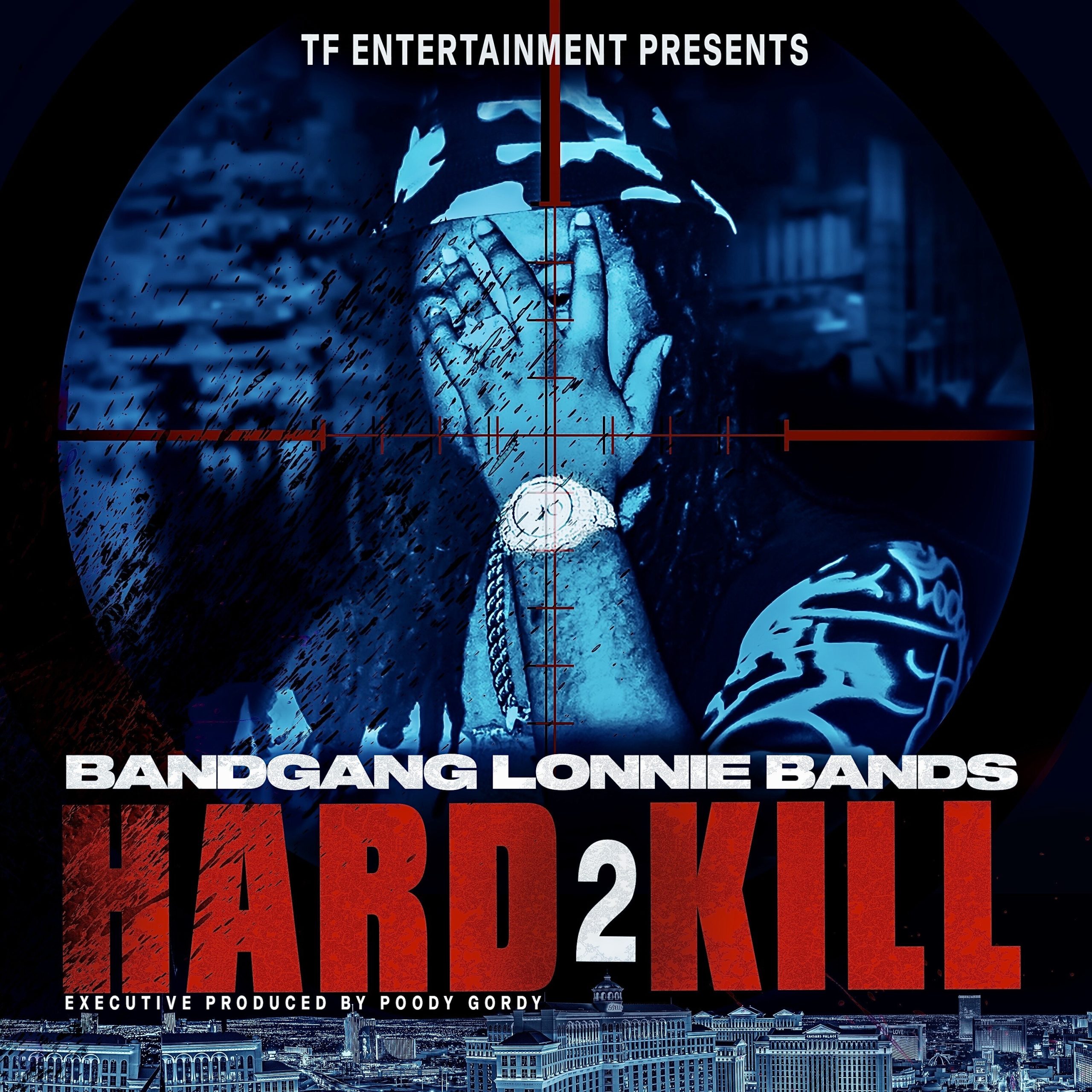 Critical Praise:
"For once, everything in Detroit hip-hop is clicking, and KOD is a step closer to Lonnie reaching a breakthrough that so many Detroit icons before him couldn't." – Pitchfork
"He's been a prominent figure in Detroit since the mid-2010s." – Pitchfork
The Announcement:
Sneering through tough-talking bars with a deadpan demeanor, BandGang Lonnie Bands is a singular and influential figure in Detroit hip-hop. Emerging seemingly unscathed from a grueling year, Lonnie shares Hard 2 Kill, his new album. Earlier this year, Lonnie faced a near-death experience when he suffered three gunshot wounds, including one in his head. As he recounts in the album's opening track, it would take a lot more than that to take him down for good: "Yeah they want me dead, but I'm H2K/Put a bullet in my head, discharged the next day/Hard to kill, 'f*ck, we can't get Lonnie out the way.'" After surviving that experience and enduring a chain of devastating personal losses, Lonnie poured his heart and soul into his new project, which brims with a sense of energy and urgency that adds drama to each piano riff and 808 thump. On the album, Lonnie rhymes with a new level of fearlessness, discussing his exploits in the streets, demonstrating his rap supremacy, and daring the opps to take another shot at him.
H2K benefits from Lonnie's spectacular ear for beats, each of which slyly subverts the kinetic, piano-heavy Detroit sound that he helped popularize with BandGang. Songs like "Where's Marshall" boast familiar samples, while other tracks get their power from unconventional instrumentation, such as "Gnarley" with its snaking guitar and cinematic flutes. The 6 Mile native puts his stamp on each track with his signature sneering flow, dipping in and out of time as he elastically spits his highly-specific flexes. Though it features plenty of beatmakers from his hometown (like Rocaine and Drego), and guest rappers from Detroit like OnFully, VVS Beezy, The Big Homie, and more, Hard 2 Kill is notable in Lonnie's discography because it expands the artist's horizon far beyond The Mitten, welcoming guests from the West Coast, midwest, and Dirty South to pay their respects. Last week, Lonnie recruited rising star EST Gee to lend his rugged bars to "Hot," a fiery single that followed-up his buzzing banger "Shoulda Got A Verse From Drake" (over 240k views in 3 weeks), which is currently making waves in the Detroit streets. Featuring additional appearances from OhGeesy, Young Nudy, BIG30, Reece Young'n, OnFully, and more, plus production from Rob Vicious, Hitman, and many others, Hard 2 Kill is available everywhere via TF Entertainment.
Along with the album, BandGang Lonnie Bands shares "Glocks & Choppas," a brand new music video for an H2K highlight. Dominated by a slinky melody plucked on what sounds like a Shamisen (traditional Japanese stringed instrument), "Glocks & Choppas" lends Lonnie's stick talk an air of enchanting grandeur, the 26-year-old rapper packing in a litany of cultural references (Scooby Doo, King Tut, and more) and unleashing a hypnotic melody that syncs with the song's central riff. The song features a guest spot from Young Nudy, another shoot-first questions-later kind of rapper, whose sharp Southern drawl cuts through the instrumental like a knife. In the video, directed by AXA, the two dread-headed rappers smoke up in the studio with some TF Ent. homies, mixing lean with Essentia and flashing enough ice to make Zales jealous.
With over 100 million YouTube views in the bank, BandGang Lonnie Bands is ready to prove that he's one of the best bar-for-bar rappers in the game today. He made his name as one of six members of BandGang, a Detroit collective that helped bring the piano-heavy sound that now dominates Detroit to the forefront. The 26-year-old rapper made his name as a solo act with his KOD project, acclaimed by Pitchfork, and expanded his audience with guest appearances on tracks by Shoreline Mafia, Drego & Beno, and more. Though the last two years have been hard, punctuated by Lonnie's near-death experience and the loss of several close friends including BandGang Paid Will, the rapper emerged from his trials stronger as a man and an artist, determined to support his family by doing what he loves most–making music.
Buy/Stream Hard 2 Kill: https://push-distro.lnk.to/Hard2Kill
Watch "Glocks & Choppas" ft. Young Nudy: https://www.youtube.com/watch?v=91M-jW_CA4w
Hard 2 Kill tracklist:
H2K
Rich And Dangerous
Bullet Proof
Hot ft. EST Gee & The Big Homie
Where Is Marshall
Marlow
Glocks & Choppas ft. Young Nudy
HI5 ft. VVS Beezy
Gnarley ft. Nhale & IAmTK Peso
Snow ft. OhGeesy
Lock Jaw
Foreva Rollin ft. BIG30
Shoulda Got A Verse From Drake ft. OnFully
Big Creature
Murdah
Gate Keeper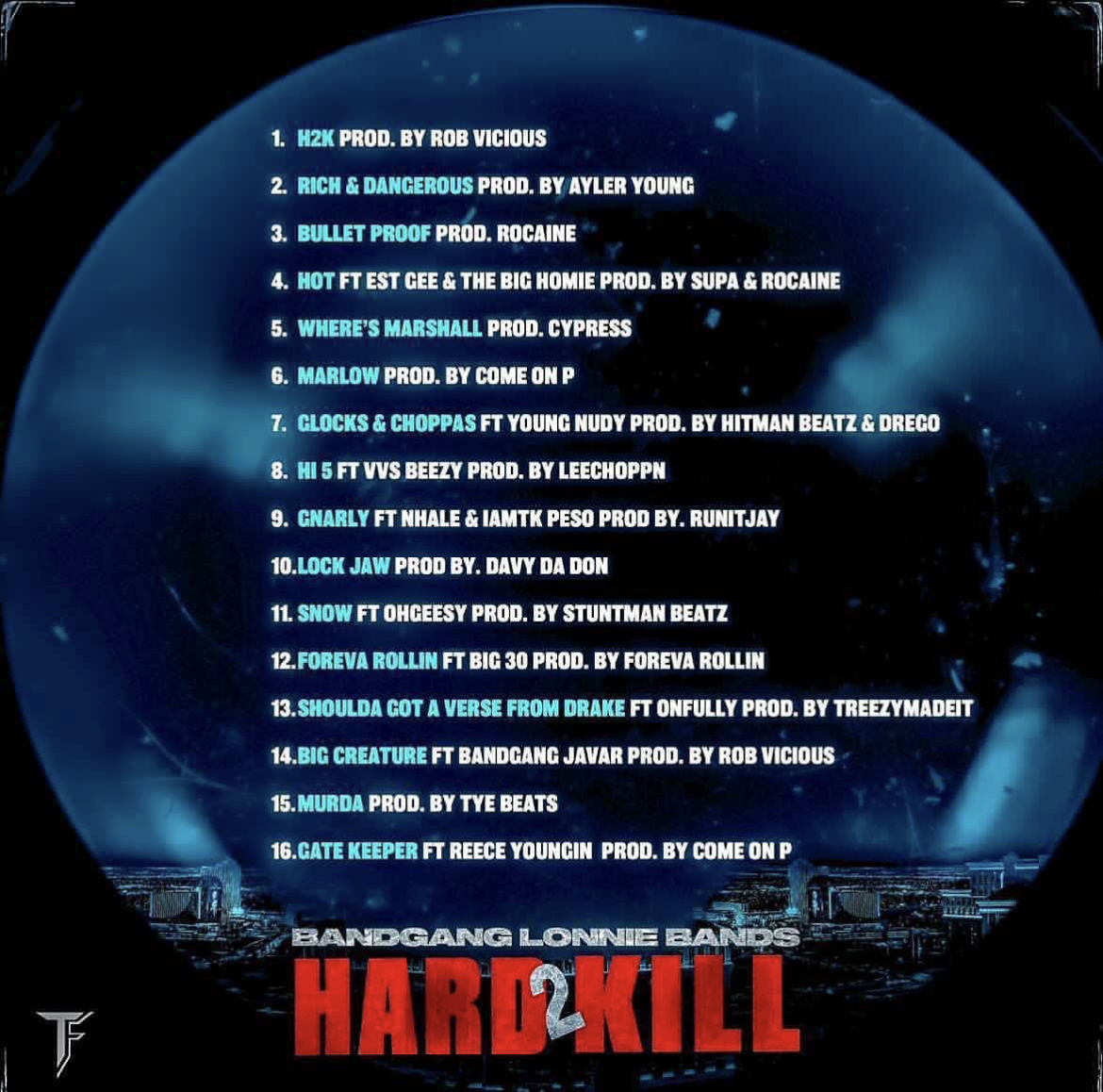 Please contact Michelle or Myles  for more info.
The Background:
"I got something to prove right now. I feel like my breakout moment hasn't even come yet," declares BandGang Lonnie Bands. A forefather of Detroit's ongoing Rap renaissance, Lonnie has amassed over 100 million video views across dozens of tracks and visuals that stream into the six and seven figures. Introduced as a standout member of the six-man BandGang crew, Lonnie has carried that momentum into collaborations with Shoreline Mafia, ShredGang, and others. However, after a string of mixtapes and albums, the pressures in BandGang Lonnie's private life affected his stride. "I lost everybody," he admits of tragedies throughout his family, rap group, and inner circle. Over two years, pain transformed into perseverance. On October 7, BandGang Lonnie Bands emerges with his H2K album. Hard To Kill refuses to retreat. Across 16 songs featuring Young Nudy, BIG30, EST Gee, and others, Lonnie insists his moment has arrived. "Can't nobody mess with me on this one. This album is coming from the soul."
---
Links:
instagram | twitter | apple | spotify | youtube
Hard 2 Kill: https://push-distro.lnk.to/Hard2Kill
"Glocks & Choppas" ft. Young Nudy: https://www.youtube.com/watch?v=91M-jW_CA4w
"Hot" ft. EST Gee & The Big Homie: https://www.youtube.com/watch?v=T9CmoL-EilQ
"Shoulda Got A Feature From Drake" ft. OnFully: https://www.youtube.com/watch?v=AhK9f3UcGPo