8.8.2023
Baja Beach Fest Reveals Merch Details and Site Map for Baja Beach Fest, Returning to Rosarito Beach, MX This Weekend, August 11-13
Baja Beach Fest Prepares To Celebrate Its Fifth Anniversary, With Help From Headliners Wisin Y Yandel, Feid, Ozuna, Don Omar, Tego Calderon, and Nicky Jam, Plus Many More A-Listers
Bringing the Best and Brightest in Latin Music and Reggaeton to a Sunny Beachside Locale, Baja Beach Fest Plans to Celebrate Its Fifth Anniversary in Rosarito With Great Music and Unforgettable Moments Over the Course of 3 Days
Critical Praise:
"Baja Beach Fest (BBF) presented some of reggaeton and Latin trap's biggest names, cementing the beachside event as a top-tier celebration of música urbana" – Billboard
Featured article: Baja Beach Fest Founders Aaron Ampudia And Chris Den Uijl Discuss Their Reggaeton Festival's Cross-Border Business – Pollstar
Best New Festival in North America – USA Today's 10 Best Reader's Choice 2019
The Announcement:
Baja Beach Fest has been the West Coast's premier showcase of Reggaeton and Latin Music talent. Returning to Rosarito Beach, MX this weekend, Baja Beach Fest prepares to celebrate its Fifth Anniversary with a bang. Headlined by Don Omar, Feid, Ozuna, Wisin Y Yandel, Tego Calderon, & Nicky Jam, with a "special Sunday set" by Grupo Firme, Baja Beach Fest's 5th Anniversary hits Rosarito Beach, MX on August 11-13, 2023.
Today, the festival shared its Site Map, which highlights all of the exciting activations, bars, and lounges that the beachside festival has to offer. This year, Baja Beach Fest partners with Nike and Lust, Mexico's favorite sneaker store, to create an activation that highlights the Nike Cortez, featuring co-branded merch and unique patches that allows festival goers to customize their Nikes. Baja Beach Fest's sponsor lounge also features activations by Monster Energy and Dos Equis.
Last week, Baja Beach Fest revealed their brand new merch for the 2023 festival. Commemorating the festival's Fifth Anniversary, the new merch includes several t-shirt and hoodie designs, a BBF-branded baseball jersey, two baseball cap designs, two bucket hat designs, and much more. The new collection is highlighted by a collaboration between Baja Beach Fest and L.A.-based streetwear brand Sworn To Us, including two unique baseball caps and a premium T-shirt.
View more images HERE
Starting each day at 2:30pm with DJ sets and lasting until the early morning, Baja Beach Fest gives each artist plenty of time to show their astonishing talents. Friday closes with the iconic duo Wisin Y Yandel, following performances by fellow headliner Nicky Jam, and A-Listers like El Alfa and Eladio Carrion. Saturday finishes off with a dazzling double bill of Feid followed by Ozuna, who arrive after stars like Becky G, Ivy Queen, Young Miko, new lineup addition Gabito Ballesteros, and more perform during the day. Sunday brings iconic reggaetoneros, including Don Omar, Tego Calderon, and Arcangel, before concluding the festival with a "special Sunday set" by powerhouse Mexican band Grupo Firme.
Baja Beach Fest is known for its beautiful beachside location, in the heart of Rosarito Beach in Baja California on the Pacific Coast. During festival weekend, the town comes alive with merchants, surfing and other beach activities, street food, and more, creating a party atmosphere that extends for blocks in either direction. Whether it's the music or the ocean breeze, vibes are immaculate all weekend long, creating an atmosphere that embodies the festival's slogan: "Menos hate, Más perreo."
Founded by Chris Den Uijl and Aaron Ampudia of La Familia Presenta in 2018, Baja Beach Fest is an institution in the global music industry, bringing headliners that have included Bad Bunny, Karol G, Daddy Yankee, and J Balvin. In 2022, La Familia Presenta branched out, founding the brand new Sueños Festival in Chicago, in partnership with C3/Lollapalooza, as well as partnering with Ocesa to host Coca-Cola Flow Fest festivals in Mexico City and Monterrey. Beyond these festivals, La Familia Presenta recently booked Wisin Y Yandel for a sold out show at Mexico City's Foro Sol Stadium, as part of the star duo's "La Ultima Misión" tour, which announces its remaining Mexico dates in April. La Familia Presenta's run of high-profile shows continued with Rauw Alejandro's recent concert at Caliente Stadium in Tijuana.
Baja Beach Fest 2023 is on track to be a special edition of the festival, promising an incredible weekend to properly honor and celebrate the rich history and diverse tapestry of Latin Music and culture. Baja Beach Fest is currently 95% sold out, with only GA passes remaining. Stay tuned for more announcements.
Buy GA passes for Baja Beach Fest 2023: https://bajabeachfest.com/passes
Watch the Baja Beach Fest 2022 Aftermovie: https://youtu.be/66eQK0aC4C4
Visit BajaBeachFest.com for more info.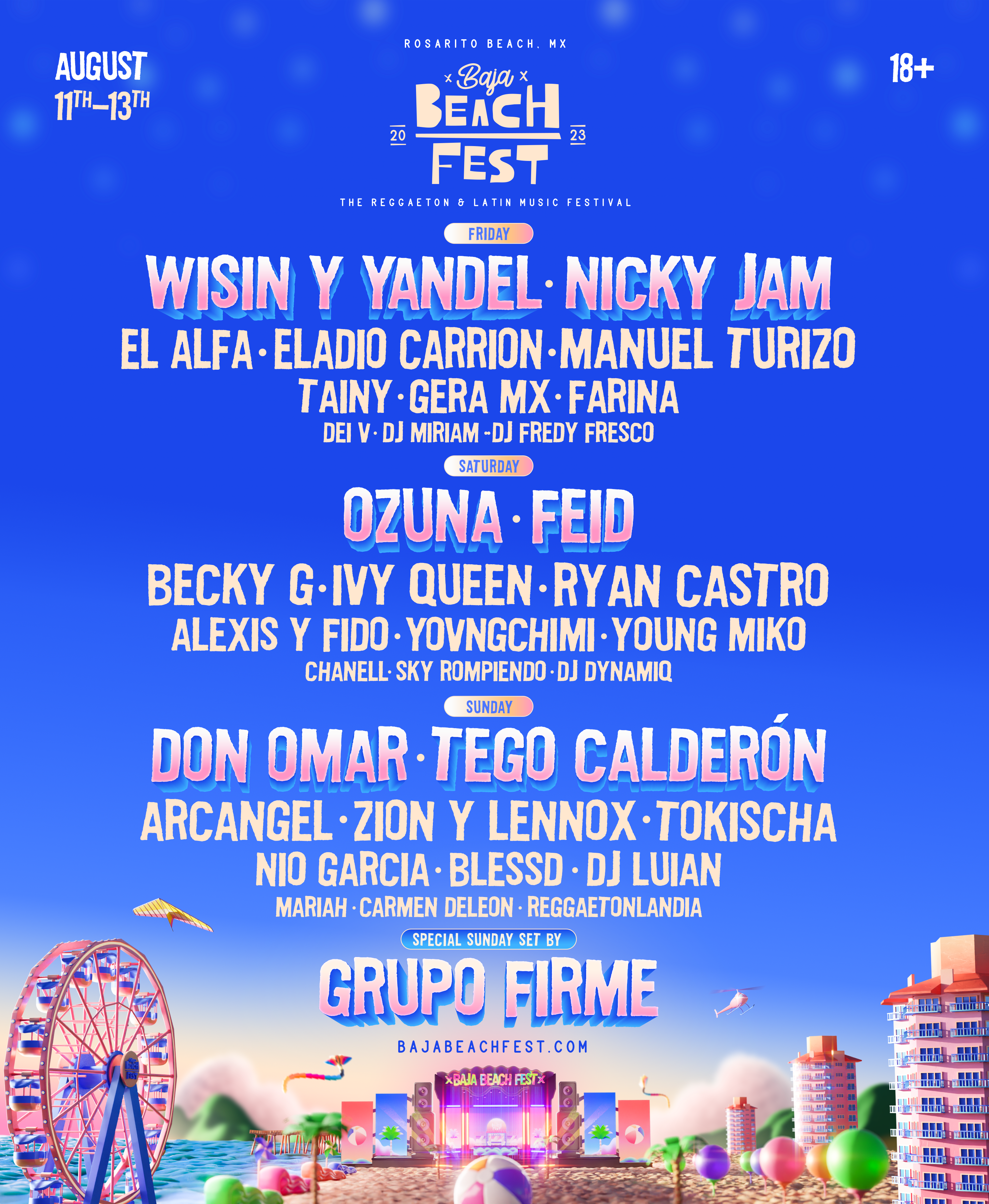 Please contact Michelle, Kerry. Kevin, or Annjie for more info.
The Background:
Celebrating Latin Music and Reggaeton in a beautiful beachside locale, Baja Beach Fest is the premier live showcase for one of music's ascendant genres. Starting in 2018 as a humble beachside fest, Baja Beach Fest has grown into an institution in Rosarito Beach, MX each summer. The one-of-a-kind festival has recruited headliners including Bad Bunny, Ozuna, Karol G, Daddy Yankee, Maluma, and more. Founded by Chris Den Uijl and Aaron Ampudia of La Familia Presenta, Baja Beach Fest prepares to celebrate its Fifth Anniversary in 2023 with one massive weekend full of great music, unforgettable moments, and immaculate vibes.
Links:
official website | instagram | facebook | twitter
Buy passes for BBF 2023: https://bajabeachfest.com/passes
Watch the Baja Beach Fest 2022 Aftermovie: https://youtu.be/66eQK0aC4C4