6.22.2021
Counting Down: Two Months 'Til Baja Beach Fest 2021, The Biggest Reggaeton & Latin Music Festival
BBF Returns to Rosarito Beach, MX with Expanded Grounds & Two Weekends on August 13th-15th and August 20th-22nd
Tickets For Weekend 1 Are Sold Out, While Limited Tickets Are Available For Weekend 2 (85% Sold Out)
Headlined by Anuel AA, J Balvin, Ozuna, and Karol G, the Continent's Premier Showcase for Reggaeton and Latin Music Was the First Festival To Sell Out During the Pandemic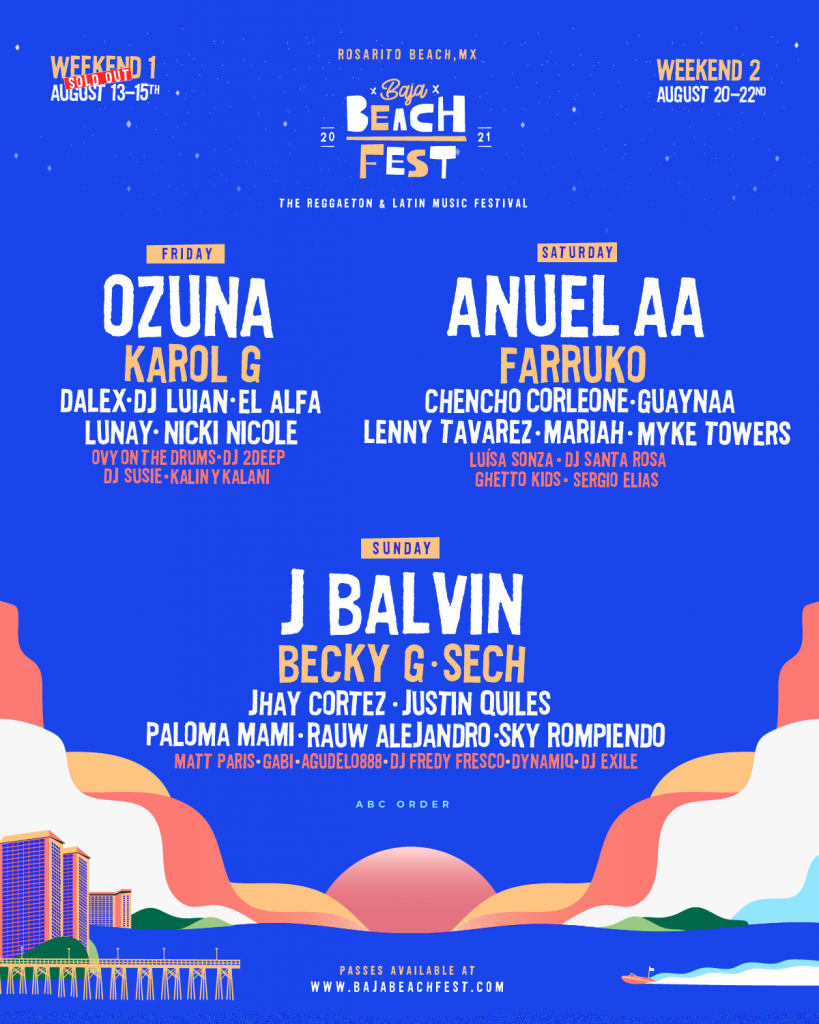 Critical Praise:
Best New Festival in North America – USA Today's 10 Best Reader's Choice 2019
Featured article: Baja Beach Fest Founders Aaron Ampudia And Chris Den Uijl Discuss Their Reggaeton Festival's Cross-Border Business – Pollstar
"Only on its second consecutive year, the fest, nestled on the glistening beach of Rosarito, Mexico, has managed to become a player on the global festival scene" – Billboard
"Baja Beach Fest Was a Game-Changing Showcase of Latinx Excellence" – Vice
"If you've heard anything about Baja Beach Fest — the reggaeton and Latin hip-hop festival coming to Rosarito, Mexico's historic Papas & Beer this weekend — you know this: It's a party. Like a big, wild, sprawling, bucket-list rager. And while other festivals seek to widen their reach by bringing in digital artists, broadening the genres they focus on, or adding in a health component, Baja Beach Fest is staying true to its identity." – UPROXX
"…the sold-out show is already a success: Ozuna and Bad Bunny are among the two-dozen acts scheduled to perform Friday and Saturday in this coastal resort town about 30 minutes south of the border." – LA Times
Editor's Choice: Things To Do In August – Delta Sky Magazine
The Announcement:
With a glorious beachside locale, immaculate vibes, and the biggest stars of Latin Music and Reggaeton, Baja Beach Fest is one-of-a-kind. After starting life as a one-day festival in 2018, Baja Beach Fest prepares to return to Rosarito Beach, MX with its biggest event yet. Spanning two weekends with three days of performances each, Baja Beach Fest 2021 represents a major expansion for the festival, which started as a single-day event in 2018, before expanding to two days in 2019 and three days in the 2020 edition (canceled due to COVID).
With a star-studded lineup headlined by the likes of Anuel AA, J Balvin, Ozuna, and Karol G, Baja Beach Fest 2021 sold all tickets for its first weekend in less than one month. The festival complements its A-list headliners with performances from Sech, Farruko, Becky G, Kali Uchis, Dalex, Jhay Cortez, Guaynaa, El Alfa, Lunay, DJ Luian, Justin Quiles, Myke Towers, Sky Rompiendo, and many more. The festival recently added Argentine sensation Nicki Nicole to the already-stacked lineup. The success of the festival signals an eagerness for the return of live music, and demonstrates the passion and purchasing power of Latin Music fans.
With the sold out first weekend occurring on August 13-15th, 2021 and tickets for the second weekend (August 20th-22nd) selling fast, fans are raring to lace up their swimsuits and experience hyper-social beachside vibe that virtual festivals can't hope to replicate. Let the countdown begin!
Tickets for BBF 2021 Weekend 2 are available from bajabeachfest.com (85% sold out).
Follow @bajabeachfest on socials for more announcements about the forthcoming festival.
Watch the Baja Beach Fest 2019 Aftermovie: https://www.youtube.com/watch?v=QRrF9yKgh6g
Hear From The Artists:
"I'm so happy to be returning to Baja Beach Festival this year. The lineup is so incredible and I can't wait to share the stage with so many members of my Latin Gang family. It's going to be a crazy weekend–LEGGO!" – J Balvin
"I am very happy to join the Baja Beach Fest festival. I am more than ready to get on that stage and give them an unforgettable show as we finally return to normal. West Coast, let's go! A romper!" – Myke Towers
"I can't wait to be back on a live stage and feel the energy and love of my fans! Can't think of a better place to do so than Baja Beach Fest this year. It's going to be epic!" – Sech
"I am extremely grateful for the love and support I've received from the country of Mexico during the pandemic. I'm so excited to perform at Baja Beach Fest 2021 this August!" – El Alfa
"I'm thrilled to be performing at Baja Beach Fest for the first time. Excited to see all my fans! Vamos a romper!" – Lunay
"I'm excited and honored to be part of the incredible Baja Beach Fest lineup! Looking forward to sharing the stage with so many of my colleagues and friends, giving a great show to the fans." – Dalex
"I feel tremendously honored and excited to share the stage with so many talented artists that I admire; to be able to go to Mexico and perform for the first time. To make it a trip where I will fulfill my dreams in a festival like Baja Beach Fest–for me, it's everything. My heart is overflowing with gratitude and I can't wait to give the best of me. I am ready to radiate the best vibes through my music on stage!" – La Gabi
Baja Beach Fest co-founders Aaron Ampudia (left) and Chris Den Uijl (Credit: Baja Beach Fest/Koury Angelo)
Please contact Michelle or Erin for more info.
The Background:
Founded by Chris Den Uijl and Aaron Ampudia in 2018, Baja Beach Fest is well on its way to becoming an institution in Rosarito and the music industry at large. With headliners like Ozuna, Bad Bunny, and J Balvin, BBF 2019 earned rave reviews from the likes of Billboard, Pollstar, Vice, L.A. Times, and more for its outstanding music, diverse and enthusiastic crowd, and positive vibes. The festival was voted the "Best New Festival in North America" by readers of USA Today.
---
Links:
instagram | facebook | twitter
Buy tickets for Baja Beach Fest 2021 (available 9/22 @ 12pm PT): https://www.bajabeachfest.com/
Watch the Baja Beach Fest 2019 Aftermovie: https://www.youtube.com/watch?v=QRrF9yKgh6g