3.15.2022
L.A.'s Hottest Rap Group Show Off Their Styles in a Glowing Video From BABYST5XNE GORILLAS, the Crew's Brand New Debut Mixtape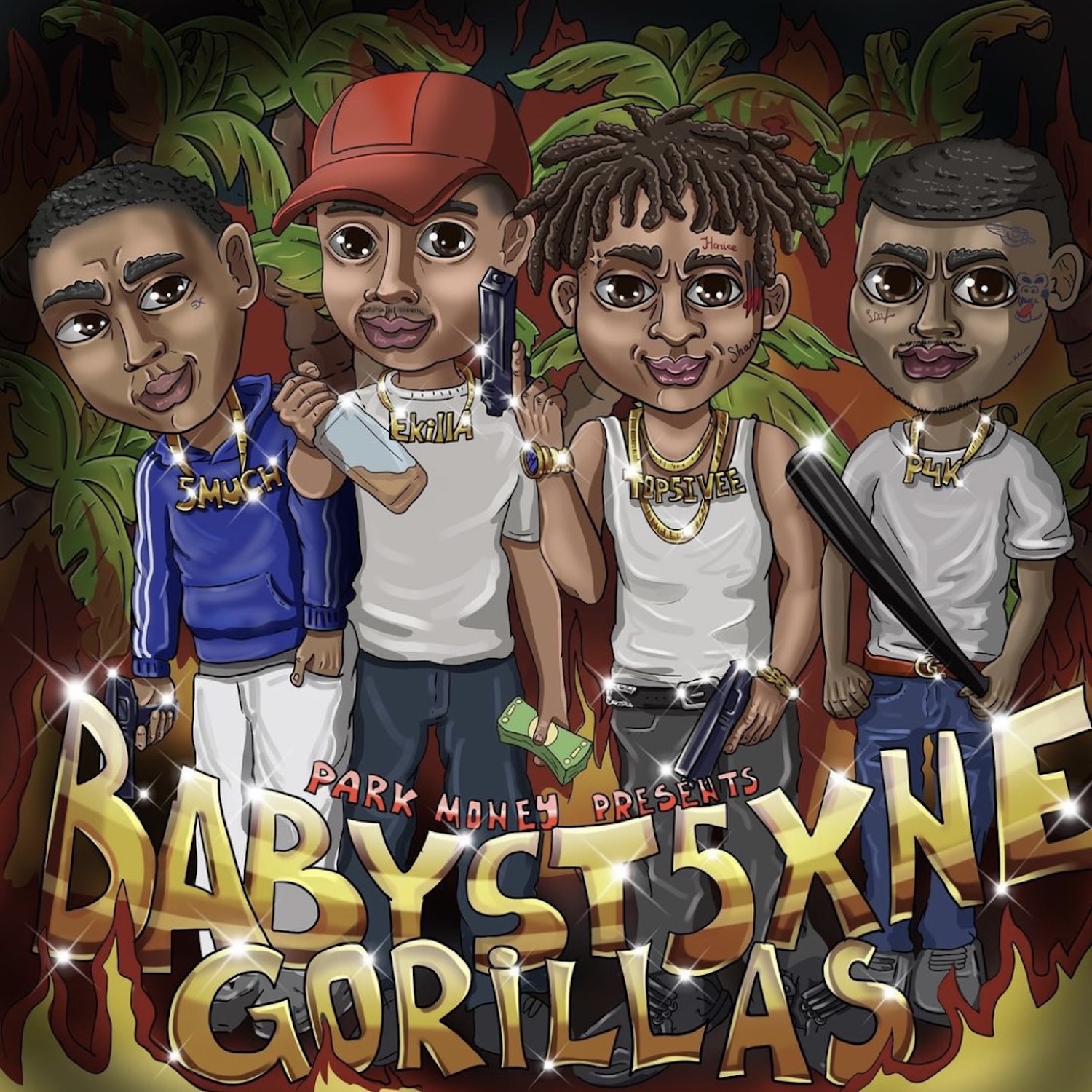 Critical Praise:
"The South East L.A. crew are having one of those runs where a regional rapper or group just break off hit after hit." – Pitchfork
"Baby Stone Gorillas have been on an impeccable run as of late, matching consistent releases with a deeply unique sense of artistry that only improves and expands with each new release" – Lyrical Lemonade
"Youthful and fiery, BSG continues to witness their sound sweep over Southern California and are poised to break across the map."  – Our Generation Music
The Video:
Streaking out of South L.A. with an electric group dynamic, Baby Stone Gorillas turn heads their new spin on the city's rap sound. Today, the four-man rap group comprised of EkillaOffDaBlocck, 5Much, P4K, and Top5ivee shares "That's What You Supposed To Do," their new music video. Produced by BIP The Producer, who provides a glistening West Coast beat with a booming bassline ideal for lowriding, "That's What You Supposed To Do" finds each of the four rappers offering pearls of street wisdom and living up to their status as heroes in their The Jungles neighborhood: "I got that bag and flipped the fin, that's what I'm supposed to do," says EKilla, while Top5ivee adds,  "Ain't nothin changed but made some change, that's what you supposed to do." In the video, the fearsome foursome posts up in a parking lot, surrounded by vintage lowriders including a souped-up, hydraulic bouncing Buick. "That's What You Supposed To Do" is the latest video from BABYST5XNE GORILLAS, the group's debut mixtape.
With production from L.A. mainstays like RonRonTheProducer, among others, BABYST5XNE GORILLAS remains electric throughout its 23 tracks, benefitting from the diverse styles and energies of the crew's four emcees. The new mixtape is home to recent single "Do It Up," an electro-funk throwback with a hook from Wallie The Sensei, as well as 22 new songs, each with the potential to become a new West Coast classic. Armed with a beat from RonRon, "Stick Squeezers" finds the BSG boys recruiting Zona Man and Slumlord Trill to tear up a sample of Too $hort & Lil Jon's "Couldn't Be A Better Player." On "With That," the four-man crew toe-tag a bass-heavy beat as they explain why they're the coolest apes in the jungle, and on "In A Circle," they nab BandGang Lonnie Bands to add some Detroit sauce. Though they specialize in hard-hitting street stories, BSG is equally adept at introspection, as shown in project highlights like "Keep Goin" and "Felt A Lot Of Pain." With additional appearances from 1TakeJay, Bla$ta, and many more, BABYST5XNE GORILLAS is available everywhere via EMPIRE.
The four members of Baby Stone Gorillas have known each other since they were 10-years-old, and were friends far before they dreamed of music stardom. The rappers have distinct styles and roles: 5Much brings a hustler's mentality and vents about his life, while EK packs the energy. P4K is the proud instigator known for slick-talking raps, while Top5ivee often comes up with B.S.G.'s catchy hooks. Last summer, the group's self-titled video racked up views in the millions, precipitating a winning streak of viral singles that included the Pitchfork–approved "Military," which earned airplay on Drake's OVOSound Radio, and "Untouchable" ft. RJMrLA, catching the attention of Shaquille O'Neal.
With the new BABY ST5XNE GORILLAS mixtape, the four East L.A. spitters are excited to show the world that they're the kings of the jungle in SoCal and beyond.
Watch "That's What You Supposed To Do": https://www.youtube.com/watch?v=jAV6PUUJdH4
Buy/Stream BABYST5XNE GORILLAS: https://music.empi.re/babyst5xne
BABYST5XNE GORILLAS Tracklist:
1. B$G Intro
2. Flame Strangs
3. Body For Body
4. Keep Goin
5. On To Tha Next (ft. WeezGotti)
6. Back Up
7. With That (ft. COLDGAME)
8. Blitz
9. 5:05 (ft. Baby Stone Gorillas, Twinn Red, BoogieFrmDa8 & Rosecrans Dame)
10. That's What You Supposed To Do
11. Pause!
12. Do It Up (ft. Wallie The Sensei)
13. Brag Different
14. Stick Squeezers (ft. Zona Man & Slumlord Trill)
15. Wit Me (ft. 1TakeJay)
16. Lights, Camera, Action
17. Pop A Perk
18. Members Only Reloaded (Richmond2LA) (ft. Bla$ta, WaymoBandzz, BtherGangVonnie, BoozaKeepsScorin & Slumlord Trill)
19. Start Sumn
20. Soldier Musik (ft. Zona Man)
21. Felt A Lot Of Pain
22. In A Circle (ft. BandGang LonnieBands & Youngaveli)
23. V.I.P.
Please contact Michelle or T'Keyah for more info.
The Background:
"You can go and listen to damn near 50 people outta L.A., period, but you'll notice that we've got a different sound," proclaims Baby Stone Gorillas member EKillaOffDaBlocck. E.K., along with group-mates Top5ivee, P4K, 5Much are creating some of the most original music out of the West Coast. From Baldwin Villages, better known as "The Jungles," this talented quartet blends elements of their street surroundings with imagination, humor, and a will to stand out. In 2021, videos like their introductory "STL Caps & Jay Hats," "Baby Stone Gorillas," and the charged-up "Military" made a powerful impression and garnered several million streams. By the end of 2021, OVORadio played music from Baby Stone Gorillas while Shaq reposted a video. Now, B.S.G. readies a 23-track mixtape that features 1takejay, Bla$ta, Band Gang Lonnie Bands, and Wallie the Sensei. "If we don't capitalize on this moment right now, there's no other time," urges P4K. "That's how we're treating it: If we don't do it now, it's never."
Links:
BSG: instagram | spotify | youtube
P4K: instagram
5Much: instagram
Top5ivee: instagram
EKillaOffDaBlocck: instagram
"That's What You Supposed To Do": https://www.youtube.com/watch?v=jAV6PUUJdH4
"Do It Up" ft. Wallie The Sensei: https://youtu.be/11-USp41ao8
Pre-order BABYST5XNE GORILLAS: https://music.empi.re/babyst5x