1.31.2020
Project: Key Glock – Yellow Tape
The Paper Route EMPIRE Signee Annihilates the Competition With Thunderous Tennessee Trap Tracks
The Project:
Dripping with confidence and delivering outlandish bars with a knowing smirk, Paper Route EMPIRE standout Key Glock is one of rap music's most exciting new voices. Elevating his craft to a new level, Glock turns in a trap clinic with Yellow Tape, his new album. Packed with larger-than-life punchlines over beats by the likes of Kenny Beats, PRE's own Bandplay, and more, Yellow Tape finds Glock in attack mode, methodically making a case for his rap supremacy: "Knock off your feet and put you on a t-shirt," warns Glock on saxophone-driven highlight "Word On The Street." Shouldering the 16-track without need for features, Glock branches out on Yellow Tape, digging into his origin story on intro track "1997," experimenting with auto-tune on "Crash," and demolishing stuttering samples from Kenny Beats on "Loaded." The new project gives a home to standout singles like the speaker-knocking "Look At They Face" (5 million combined streams on YouTube and Spotify), the suave "Mr. Glock," and the sinister "I'm Just Sayin'." The follow-up to last year's Dum & Dummer, the hit collaborative album with PRE head honcho Young Dolph, Yellow Tape is available now on all platforms via Paper Route EMPIRE.
Next week, Key Glock joins Young Dolph on the nationwide "Sirius XM Presents: The No Rules Tour." Featuring solo sets by both rappers and joint performances of Dum & Dummer tracks, the "No Rules Tour" kicks off on February 5th in Seattle, passing through The Wiltern in Los Angeles on February 9th, the South Side Ballroom in Dallas on February 23rd, the Tabernacle in Atlanta on February 26th, Sony Hall in NYC on March 6th, and Vic Theater in Chicago on March 15th, wrapping up with a stop in Des Moines on March 19th. Tickets are currently available on Young Dolph's official site.
Buy/Stream Yellow Tape: https://Empire.lnk.to/Yellow_Tape
Buy tickets for Young Dolph & Key Glock's "No Rules Tour": http://www.Youngdolph.com/tour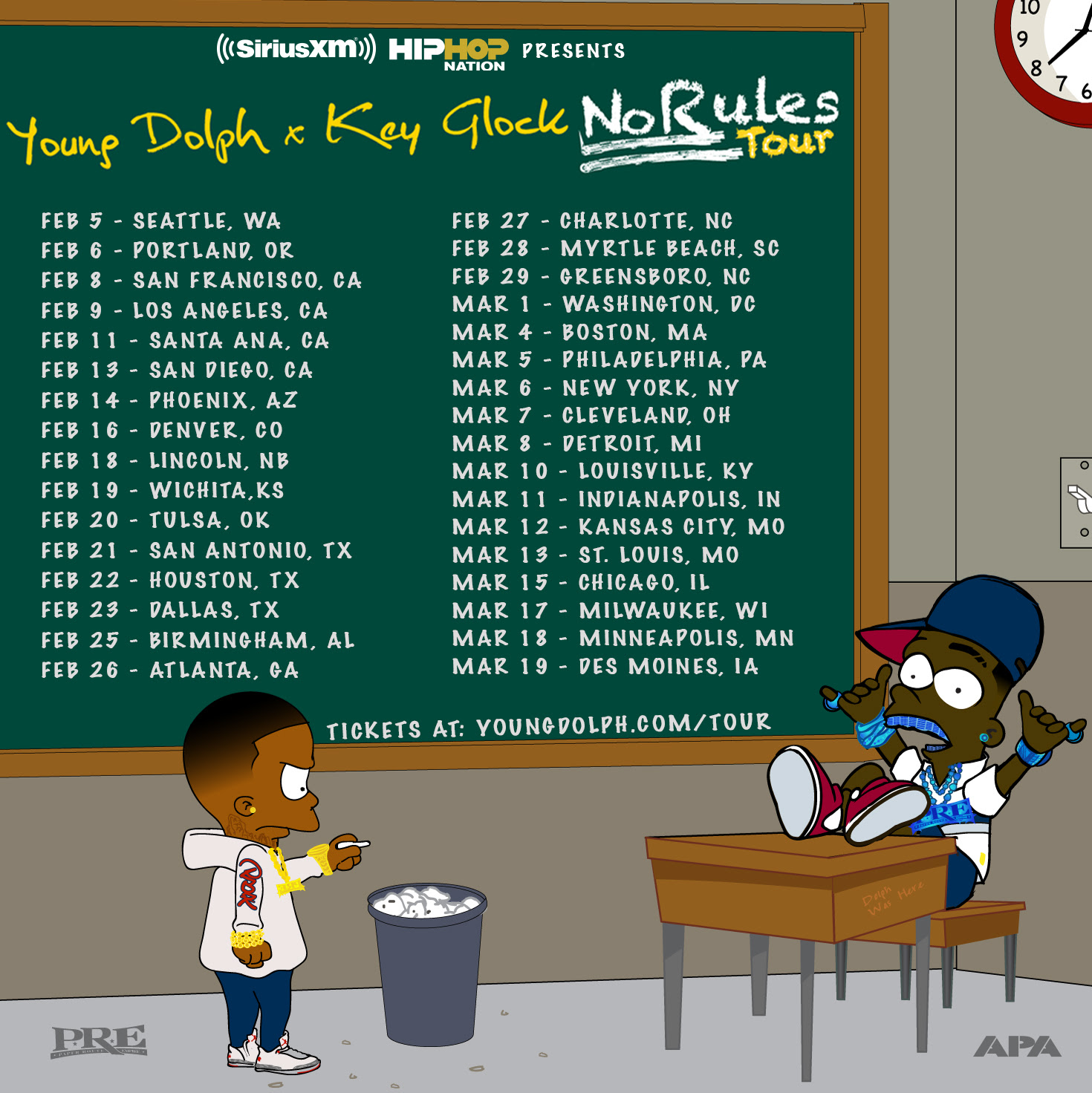 Please contact Michelle or Scott for more info.
Links:
twitter | facebook | soundcloud | youtube | instagram | official site | spotify
Bio, photos, music and more can be found at www.audibletreats.com/key-glock
Yellow Tape: https://Empire.lnk.to/Yellow_Tape
"I'm Just Sayin'": https://www.youtube.com/watch?v=bgnu9rnbBRA
"Mr. Glock": https://youtu.be/qfBtPySlU-M
"Look At They Face": https://www.youtube.com/watch?v=2qO3OpoRgwc / https://empire.lnk.to/LATFYo
Buy tickets for Young Dolph & Key Glock's "No Rules Tour": http://www.Youngdolph.com/tour
"Monster": https://www.youtube.com/watch?v=OEamCUjEhNc
"Back To Back": https://www.youtube.com/watch?v=WWozF4loq9U
"Water On Water On Water": http://www.youtube.com/watch?v=BM81wKOSpz8
"Dum & Dummer": https://www.youtube.com/watch?v=givz9WM8iW4
Dum & Dummer: https://empire.lnk.to/dummer
"Ill": https://www.youtube.com/watch?v=ZgEH6lUYy-E // http://vevo.ly/dkgJGC
"Baby Joker": http://www.youtube.com/watch?v=On9g7aqX9Xk / https://EMPIRE.lnk.to/babyjoker