1.28.2020
Video: Key Glock – "I'm Just Sayin'"
The Paper Route EMPIRE Heavy-Hitter Dons a Designer Ski Mask in the Latest Clip From Yellow Tape, Coming This Friday
The Video:
Delivering top-tier punchlines with his thundering flow, Key Glock has stardom in his sights. Back with a stern warning for his doubters, Glock shares "I'm Just Sayin'," his new video single. With a monster-movie beat , "I'm Just Sayin" establishes the Paper Route EMPIRE rhymer as the rap game's final boss. But don't look for a weakness–the South Memphis rapper has none: "I was in these streets before this rap sh!t/Yeah, all the industry rappers be on cap sh!t."
In the video, Glock dons a PRE ski mask, stalking a lonely graveyard on a gray day, before he retreats to the bando to mob to his own music with a dozen of his closest friends. "I'm Just Sayin'" is the latest single to drop in the run-up to Yellow Tape, Glock's imminent new mixtape.
Packed with authoritative bars, nimble flows, and outrageous punchlines, Yellow Tape is the 22-year-old artist's warning to the rest of the rap game–he's taking aim at his competition, and he's not gonna miss. Shouldering the 16-track load without any features, Yellow Tape finds Key Glock working with some of the best producers in the game including Kenny Beats and PRE's own Bandplay. Earlier this month, Glock shared the witty, speaker-knocking single "Look At They Face," and its Eddie Murphy-homaging music video (4.3 million YouTube views), and more recently, he shared "Mr. Glock," an ultra-confident slice of Tennessee trap (1.2 million views). The follow-up to last year's Dum & Dummer, the hit collaborative album with PRE head honcho Young Dolph, Yellow Tape arrives on January 31st via Paper Route EMPIRE.
In early February, Dolph and Glock set out on the "Sirius XM Presents: The No Rules Tour." Featuring solo sets by both rappers and joint performances of Dum & Dummer tracks, the "No Rules Tour" kicks off on February 5th in Seattle, passing through The Wiltern in Los Angeles on February 9th, the South Side Ballroom in Dallas on February 23rd, the Tabernacle in Atlanta on February 26th, Sony Hall in NYC on March 6th, and Vic Theater in Chicago on March 15th, wrapping up with a stop in Des Moines on March 19th. Tickets are currently available on Young Dolph's official site.
Watch "I'm Just Sayin'": https://www.youtube.com/watch?v=bgnu9rnbBRA
Buy tickets for Young Dolph & Key Glock's "No Rules Tour": http://www.Youngdolph.com/tour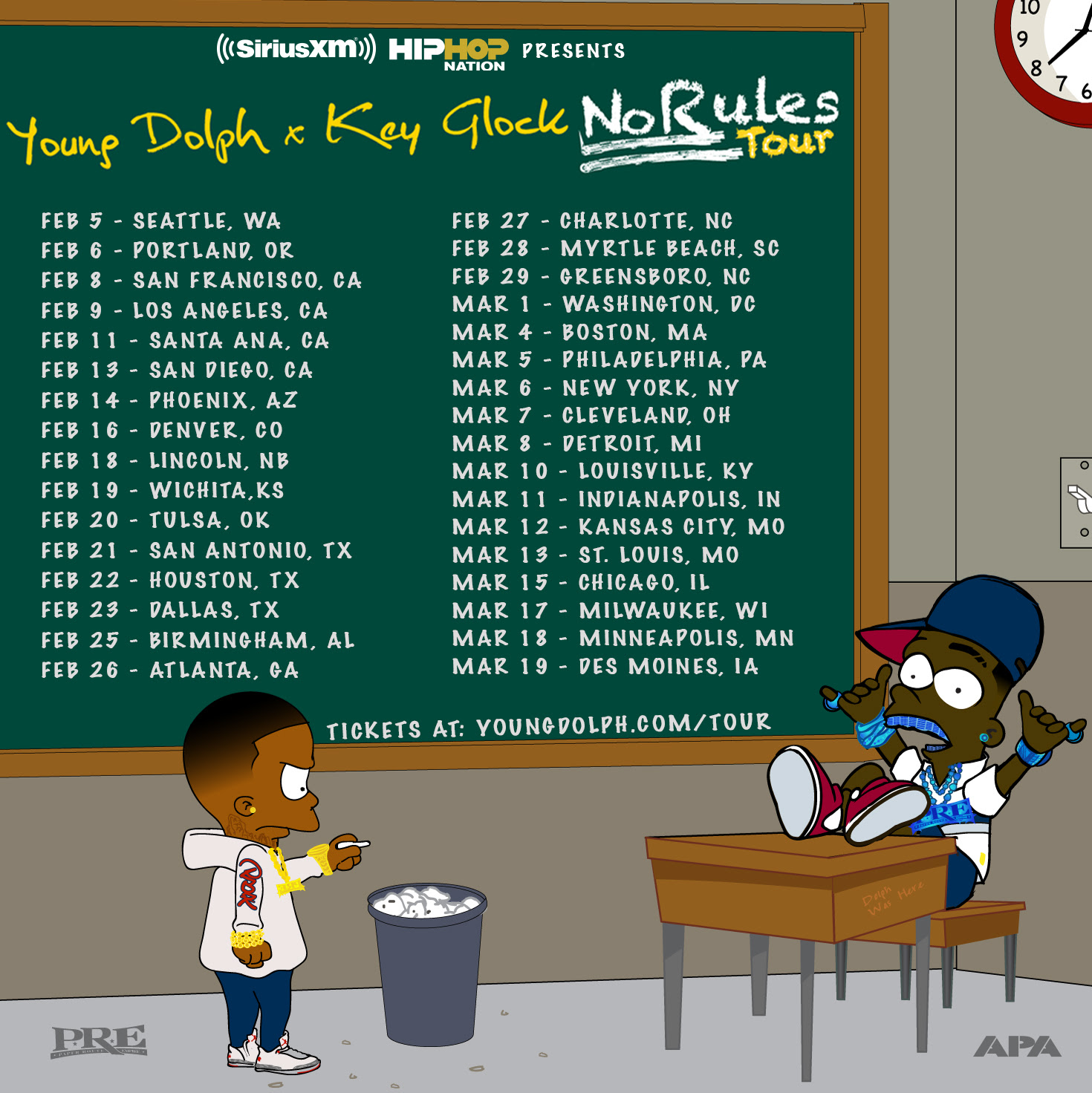 Please contact Michelle or Scott for more info.
Links:
twitter | facebook | soundcloud | youtube | instagram | official site | spotify
Bio, photos, music and more can be found at www.audibletreats.com/key-glock
"I'm Just Sayin'": https://www.youtube.com/watch?v=bgnu9rnbBRA
"Mr. Glock": https://youtu.be/qfBtPySlU-M
"Look At They Face": https://www.youtube.com/watch?v=2qO3OpoRgwc / https://empire.lnk.to/LATFYo
Buy tickets for Young Dolph & Key Glock's "No Rules Tour": http://www.Youngdolph.com/tour
"Monster": https://www.youtube.com/watch?v=OEamCUjEhNc
"Back To Back": https://www.youtube.com/watch?v=WWozF4loq9U
"Water On Water On Water": http://www.youtube.com/watch?v=BM81wKOSpz8
"Dum & Dummer": https://www.youtube.com/watch?v=givz9WM8iW4
Dum & Dummer: https://empire.lnk.to/dummer
"Ill": https://www.youtube.com/watch?v=ZgEH6lUYy-E // http://vevo.ly/dkgJGC
"Baby Joker": http://www.youtube.com/watch?v=On9g7aqX9Xk / https://EMPIRE.lnk.to/babyjoker