Album: 03 Greedo – Still Summer In The Projects
Executive Produced by Mustard, Who Had a Hand in Producing Every Track, the Watts Rapper's Latest Project Balances Debauchery and Reflection in Equal Measure
04.19.2019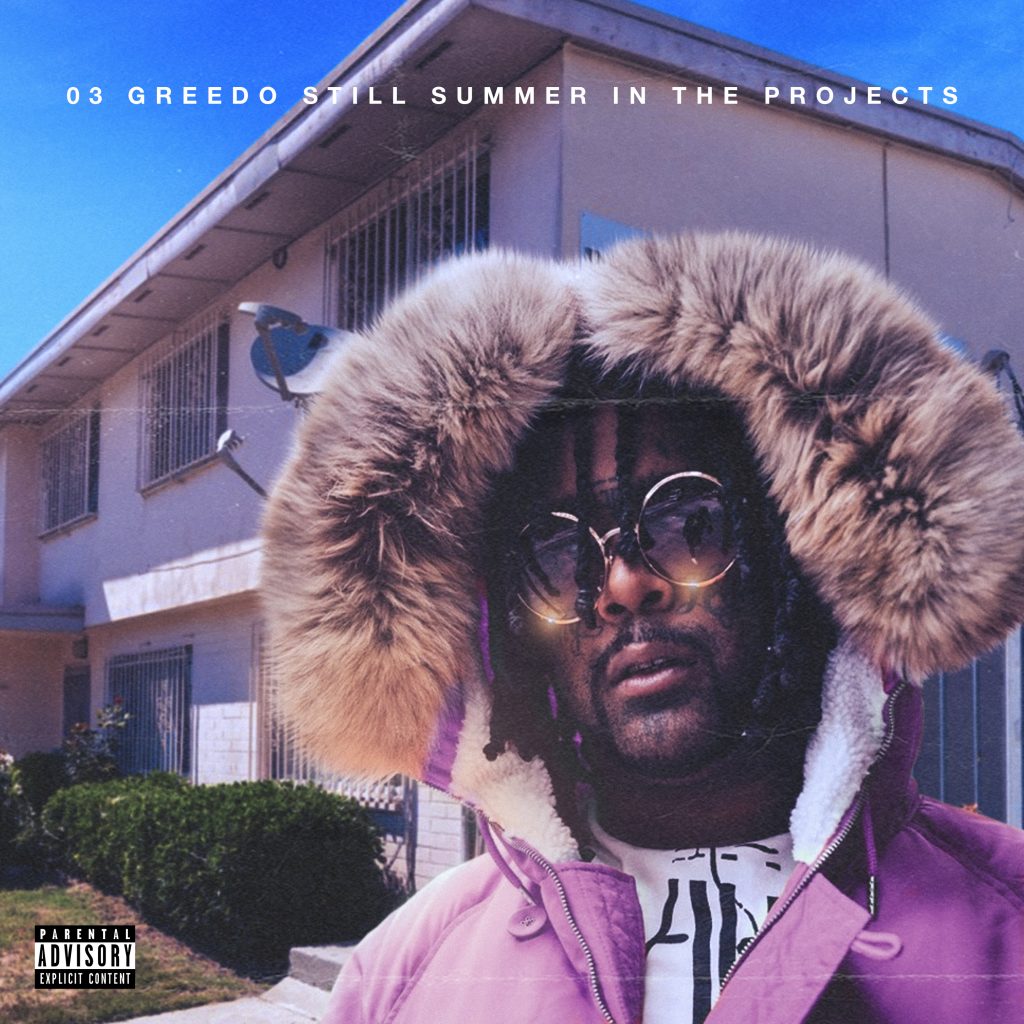 Critical Praise for 03 Greedo:
"The latest hope of Los Angeles hip-hop" – Rolling Stone
"The Watts rapper is an essential piece of West Coast rap" – Pitchfork
"Los Angeles street-rap weirdo 03 Greedo is one of the most exciting and inventive voices around right now, and he already released one of the best rap albums of the year" – Stereogum
The Album:
Los Angeles legend 03 Greedo might be currently serving a prison sentence in Texas, but the system can't stop him from dropping the ideal project for the fast-approaching summer. Enlisting iconic L.A. sound architect Mustard and his brightly colored soundscapes, Greedo shares Still Summer In The Projects, his first new full-length since beginning his prison term last year.
Spanning 11 songs, Still Summer In the Projects displays the versatility and variety typical of a Greedo project, as the Watts native consistently finds the most interesting way to approach Mustard's warm keys and snapping snares. The project features a wide-ranging array of distinctly west coast gems, from wavy trap ballads like "Gettin Ready," to ferocious and cocky street tales like "Bet I Walk," to down-and-dirty strip club anthems like the Rolling Stone-premiered "Wasted," to the Billboard– and The FADER-premiered breezy windows-down jam "Trap House," which Pitchfork called 'a song that should have Greedo's presence felt this summer." The project culminates in the gorgeous closing track "Visions," which finds Greedo reflecting on his prison sentence and envisioning his comeback, ending with a confessional delivered by Greedo through a prison phone.. Featuring appearances from YG, Shoreline Mafia, and Trilliano, Still Summer In The Projects arrives via Alamo/Interscope.
Growing up in extreme poverty in the Central L.A. city of Watts, 03 Greedo rose to prominence in late 2017 on the back of cult hits like "Mafia Business." Last year, Greedo's unique sound reached a national audience, as he flashed his supernatural rhyming ability on the mixtape The Wolf of Grape Street and flexed his artistic muscles on the 27-track God Level, which boasts the Lil Uzi Vert-featuring "Never Bend" (Remix). Earlier this week, Greedo released the Noisey-produced documentary Project Genius: The Story of 03 Greedo, which chronicles his rise and his importance to his Watts community.
Last month, 03 Greedo and Alamo Records unveiled "#LettersToGreedo," a new website and social media initiative. Aggregating the best posts by Greedo fans who use the hashtag #LettersToGreedo on their social media posts, the new website is a testament to the passion of fans of Greedo, who is currently serving a prison sentence in Amarillo, Texas. A select few of the most passionate and creative #LettersToGreedo posters will earn an audio response from Greedo himself. Fans will also have the ability to submit audio or text directly to the website, and will be able to leave messages for Greedo at tel:432-216-2294. Promoted by Greedo's artistic peers, including YG, Mustard, and OhGeesy of Shoreline Mafia, and arriving with two new pieces of 03 Greedo merchandise, #LettersToGreedo is currently accepting submissions.
Buy/Stream Still Summer In The Projects: http://smarturl.it/SSITP
Watch Project Genius: The Story of 03 Greedo: https://youtu.be/rBRUXenAVKc?t=0
Please contact Michelle or Erin if interested in talking with 03 Greedo or Mustard.
---
Links:
twitter | facebook | soundcloud | youtube | instagram

Still Summer In The Projects: http://smarturl.it/SSITP
Project Genius: The Story of 03 Greedo: https://youtu.be/rBRUXenAVKc?t=0
03 Greedo x Mustard – "Trap House" ft. Shoreline Mafia: https://youtu.be/JlE3BpBMIz4 // http://smarturl.it/TH03Greedo
03 Greedo x Mustard – "Wasted" ft. YG: https://soundcloud.com/03greedo/wasted // http://smarturl.it/Wasted03Greedo
"Never Bend" (Remix) ft. Lil Uzi Vert: https://www.youtube.com/watch?v=LuCE-Fb-u0o
"Never Bend": https://www.youtube.com/watch?v=0lPOXSYY1co
God Level: https://soundcloud.com/03greedo/sets/god-level // https://open.spotify.com/album/4elwYqB897R5hwIqJXDXxy
"Fortnite": https://www.youtube.com/watch?v=VhV0wdf-qfM
The Wolf Of Grape Street: https://soundcloud.com/03greedo/sets/wolf-of-grape-street // https://open.spotify.com/album/4TnfqHgc2h5iAK87jU2ZKJ
"If I Wasn't Rappin'": https://www.youtube.com/watch?v=i0VrVH66_hk
"Mafia Business": https://www.youtube.com/watch?v=UMUKT9cODEY