4.19.2023
03 Greedo Announces "Another Purple Summer Tour"
The Tour Kicks Off On June 16th at The Novo For Greedo's First Hometown Show Since 2018
The Tour Continues With Dates in Oakland, San Diego, and More To Be Announced
Tickets Are Available on Friday April 21st
Watts, CA's Finest Emcee, Who Made a Triumphant Return to the Stage at This Year's SXSW, Will Perform Songs from His Recent Halfway There Mixtape and His Illustrious Catalog
Home to Lead Single "Bacc Like I Never Left" and Appearances from Ty Dolla $ign, Babyface Ray, Maxo Kream, Peewee Longway, and More, the 33-Track Halfway There is Available Everywhere via Alamo Records
Critical Praise:
"The latest hope of Los Angeles hip-hop" – Rolling Stone
"The Watts rapper is an essential piece of West Coast rap" – Pitchfork
"Los Angeles street-rap weirdo 03 Greedo is one of the most exciting and inventive voices around right now, and he already released one of the best rap albums of the year" – Stereogum
"Literally no one else on Leonardo DiCaprio's green Earth talks flavorful cash sh*t as wonderfully as 03 Greedo." – Complex
"This mixtape is a step away from his usual sunny LA sound, but 03 Greedo knew what he was doing when he enlisted the help of Kenny Beats. This link up has resulted in an entertaining, yet simple record, the concept expertly executed. 'Netflix and Deal' is a cinema experience – minus the over-expensive snacks." – NME
The Announcement:
Freshly released from legal purgatory, 03 Greedo is ready to work. Continuing to make the most of his freedom, the Watts, CA legend announces "Another Purple Summer Tour," his first headlining dates since 2018. The tour kicks off on June 16th at The Novo in Los Angeles–happening nearly 5 years to the day after his farewell show in 2018–before continuing later this summer with dates in Oakland and San Diego. Tickets for "Another Purple Summer" are available on Friday April 21st at 10am PT.
Buy tickets here: LA | OAK | SD
"Another Purple Summer" continues a busy year for the Cali rap icon, marked by multiple albums, headline-grabbing performances, and more. Most recently, Greedo shared Halfway There, his first project of all-newly recorded music since 2018. Recorded in the months since his January release at Houston's Sugar Hill Studios, Halfway There benefits from Greedy's endless font of melodies and peerless ability to write fully-realized songs in a matter of minutes. The tape is home to recent single "Bacc Like I Never Left," as well as guest appearances from Ty Dolla $ign, Babyface Ray, Maxo Kream, and many more, Halfway There is available everywhere via Alamo Records.
Tomorrow, Greedo releases the music video for "How Could I," a confident and catchy highlight from Halfway There. "How Could I" drops on Greedo's YouTube channel on April 20th at 8pm PT.
Earlier in the year, Greedo shared Free 03, a project created in collaboration with L.A. producer Mike Free. Acclaimed by Pitchfork, Free 03 contains music Greedo recorded from jail, along with music made before he began his prison sentence. Greedo made his grand return to the stage at Billboard's The Stage @ SXSW, performing his new single and highlights from his career, and is part of the recently announced lineup for Rolling Loud Miami. The artist gave a glimpse into his post-prison life and his creative process with a recent documentary about the making of Halfway There, and was the subject of a glowing feature in the L.A. Times in late March.
With Halfway There in the books and much more music on the way, 03 Greedo is making up for lost time. Forget a Purple Summer…it's gonna be Purple all year long.
Buy tickets for "Another Purple Summer Tour" (available 4/21 at 10am PT): LA | OAK | SD
Stream Halfway There: http://03greedo.lnk.to/halfwaythere
Watch the "Halfway There" documentary: https://www.youtube.com/watch?v=g251BoOtTec
Watch "How Could I" (live at 8pm PT on April 20th) on 03 Greedo's YouTube channel
Read 03 Greedo's interview in the L.A. Times: https://www.latimes.com/entertainment-arts/music/story/2023-03-28/03-greedo-prison-release-free-halfway-there
Another Purple Summer Tour Dates:
June 16 – Los Angeles, CA (The Novo)
June 28th – Oakland, CA (New Parish)
July 14th – San Diego, CA (House of Blues 3D)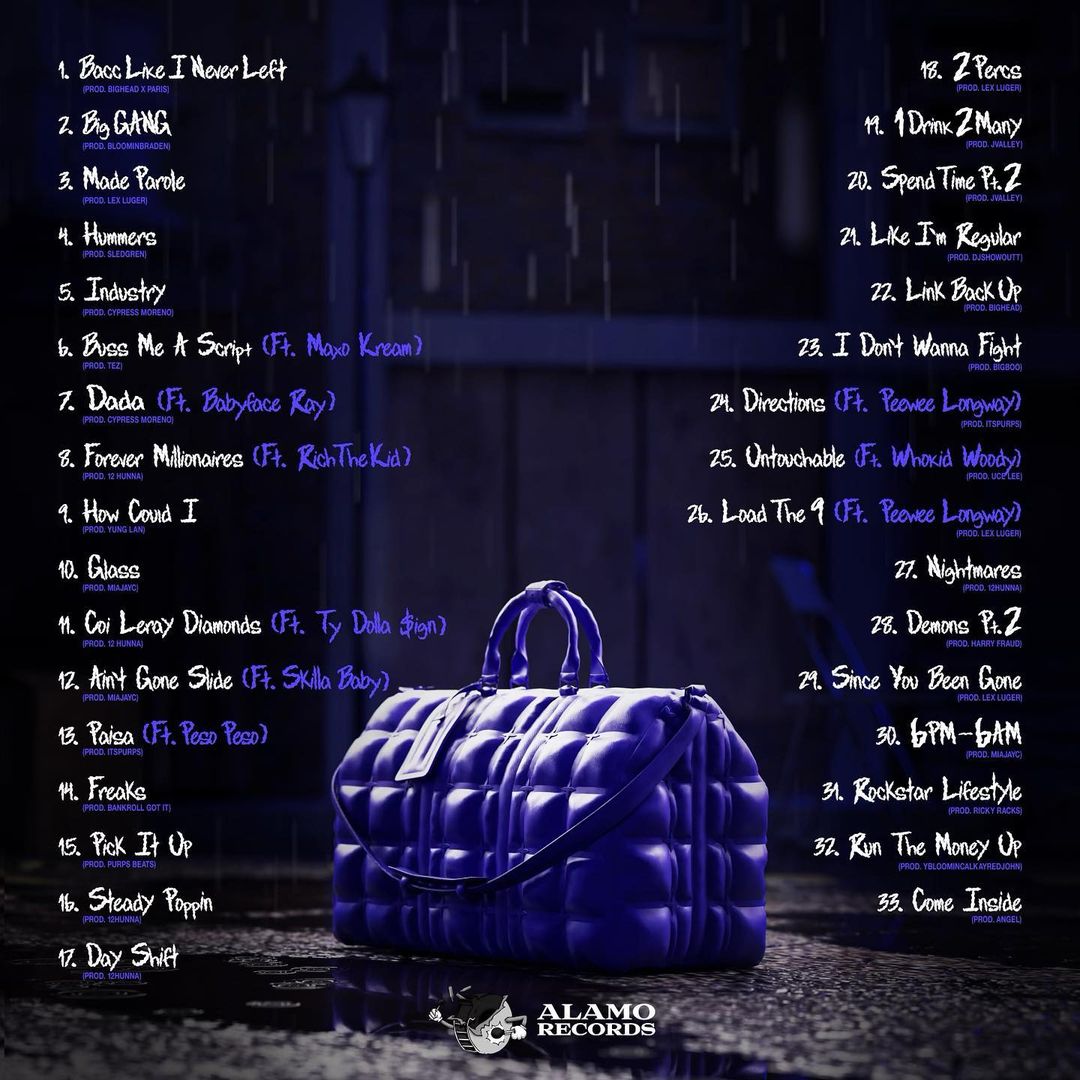 03 Greedo performs at Billboard's The Stage @ SXSW
(Credit: Christopher Polk for Billboard)
Download more photos HERE
Please contact Michelle or Kevin for more info.
The Background:
L.A. rapper 03 Greedo came into his own on a series of mixtapes that began with 2016's Purple Summer. His multi-faceted rhymes were heavy on references to drugs, struggle, and fame, and he churned out quality material at a prolific rate. He broke through to an even larger audience after signing a record deal, but not even a month after the release of his 2018 debut studio album God Level, he was sentenced to 20 years in prison for drug trafficking. He began serving his time in the summer of that year but issued a statement saying he intended to keep making and releasing new music while incarcerated. In 2019, Greedo released Still Summer in the Projects, the Kenny Beats produced project Netflix & Deal, with features from Freddie Gibbs, Vince Staples, Buddy and more, and in 2020, he dropped Load It Up, Vol. 01, produced by RonRonThe Producer. Greedo released his mixtape, Free 03, in January 2023, and returned with Halfway There, his first newly-recorded album since his release from prison, in March.
---
Links:
twitter | facebook | soundcloud | youtube | instagram
Buy tickets for "Another Purple Summer Tour": LA | OAK | SD
Halfway There: http://03greedo.lnk.to/halfwaythere
"Bacc Like I Never Left": https://03greedo.lnk.to/blinl / https://www.youtube.com/watch?v=2AIG2RdhV1M
Free 03: https://03Greedo.lnk.to/Free03
"Drop Down" ft. KenTheMan: https://03Greedo.lnk.to/DropDown
"Pourin" ft. BlueBucksClan: http://lnk.to/03greedo-pourin
03 Inna Key EP: http://smarturl.it/03InnaKey
"Substance (We Woke Up)" ft. Wiz Khalifa: http://smarturl.it/SubstanceRemix
"Bands In Da Basement" ft. Chief Keef: http://smarturl.it/BandsInDaBasement / https://youtu.be/y0cLzfv95oo
Load It Up Vol. 01 (w/ Ron-Rontheproducer): https://smarturl.it/LoadItUpVolume1
"Drip Keep Going" ft. Key Glock: https://smarturl.it/DripKeepGoing
"Baccstage" ft. Shordie Shordie & Wallie The Sensei: http://smarturl.it/Baccstage
"Home Vlone": https://smarturl.it/HomeVLone
Netflix & Deal: https://smarturl.it/netflixanddeal
Still Summer In The Projects: http://smarturl.it/SSITP
Project Genius: The Story of 03 Greedo: https://youtu.be/rBRUXenAVKc?t=0
03 Greedo x Mustard – "Trap House" ft. Shoreline Mafia:  https://youtu.be/JlE3BpBMIz4 // http://smarturl.it/TH03Greedo