3.24.2023
03 Greedo Makes His Triumphant Return to the Rap Game with Halfway There Mixtape
His First All-New Project Since His Release From Prison, Halfway There Arrives via Alamo Records
Home to Lead Single "Bacc Like I Never Left" and Appearances from Heavy Hitters Like Ty Dolla $ign, Babyface Ray, Maxo Kream, Peewee Longway, and Many More, the 33-Track Halfway There Proves That Watts, CA's Finest Emcee Hasn't Lost a Step
Critical Praise:
"The latest hope of Los Angeles hip-hop" – Rolling Stone
"The Watts rapper is an essential piece of West Coast rap" – Pitchfork
"Los Angeles street-rap weirdo 03 Greedo is one of the most exciting and inventive voices around right now, and he already released one of the best rap albums of the year" – Stereogum
"Literally no one else on Leonardo DiCaprio's green Earth talks flavorful cash sh*t as wonderfully as 03 Greedo." – Complex
"This mixtape is a step away from his usual sunny LA sound, but 03 Greedo knew what he was doing when he enlisted the help of Kenny Beats. This link up has resulted in an entertaining, yet simple record, the concept expertly executed. 'Netflix and Deal' is a cinema experience – minus the over-expensive snacks." – NME
The Announcement:
Fresh out of jail and ready to reclaim his coveted spot in the rap game, Los Angeles legend 03 Greedo shares Halfway There, his first project of all-newly recorded music since 2018.
Recorded in the months since his January release at Houston's Sugar Hill Studios, Halfway There benefits from Greedy's endless font of melodies and peerless ability to write fully-realized songs in a matter of minutes. Halfway There arrives alongside a documentary that takes a revealing look at what Greedy's been up to since his release from prison in January.
Spanning 33 tracks, Halfway There provides an embarrassment of riches, a gift from a rapper who knows his loyal fanbase has been waiting a long time.  Greedy's songwriting retains all of the hallmarks that made him one of the West Coast's most beloved artists:  effortless taffy-like melodies, slick turns-of-phrase that become earworm hooks, expressively unfiltered lyrics, and the ability to flat-out spit when the situation calls.  The tape is home to recent single "Bacc Like I Never Left," which 03 debuted at Billboard's The Stage @ SXSW during his first solo live performance in nearly five years.
The follow-up to the Pitchfork-acclaimed Free 03 mixtape, Halfway There runs the gamut of styles, touching on Greedy's every mood and his omnivorous musical appetite. Halfway There's origins in the Lone Star State have a major impact on the sound; Greedy has always combined his West Coast origins with his love of Southern trap, and that influence is felt through the contributions by trap architects like Lex Luger and Purps of 808 Mafia, and appearances by Southern rappers like Maxo Kream and Peewee Longway.
Still, they can take Greedy out of California, but they can't take the California out of him–many of the tape's highlights, including the breezy "Coi Leray Diamonds" ft. Ty Dolla $ign, party anthem "1 Drink 2 Many," and the creeping and paranoid "Industry" (prod. by L.A.'s Cypress Moreno), reflect the California styles of his classic period. The latter provides a revealing glimpse at how the L.A. legend has processed the vast changes in the rap game since he went away: "Don't post that picture wit me til I leave, don't put me on your live/If my bro PNB ain't go through that, my dawg still be alive/I lost him four months 'fore I got released, couldn't do a thing but cry/Cause after Bankroll, Drakeo, Dolph, and Nip, feel like the next to die."
With additional guest appearances from Babyface Ray, Rich The Kid, Skilla Baby, and more, plus production from the likes of Harry Fraud, Sledgren, Yung Lan, and 12Hunna, Halfway There is available on all platforms via Alamo Records.
With Halfway There in the books and much more music on the way, 03 Greedo is making up for lost time. Forget a Purple Summer…it's gonna be Purple all year long.
Stream Halfway There: http://03greedo.lnk.to/halfwaythere
Watch the "Halfway There" documentary: https://www.youtube.com/watch?v=g251BoOtTec
Halfway There tracklist:
1. Bacc Like I Never Left
2. Big Gang
3. Made Parole
4. Hummers
5. Industry
6. Buss Me A Script feat. Maxo Kream
7. Dada feat. Babyface Ray
8. Forever Millionaires feat. Rich The Kid
9. How Could I
10. Glass
11. Coi Leray Diamonds feat. Ty Dolla $ign
12. Aint Gone Slide feat. Skilla Baby
13. Paisa feat. Peso Peso
14. Freaks
15. Picc It Up
16. Steady Poppin
17. Day Shift
18. 2 Percs
19. 1 Drink 2 Many
20. Spend Time Pt 2
21. Like I'm Regular
22. Link Back Up
23. I Don't Wanna Fight
24. Directions feat. Peewee Longway
25. Untouchable feat. Whokid Woody
26. Load The 9 feat. Peewee Longway
27. Nightmares
28. Demons Pt 2
29. Since You Been Gone
30. 6pm-6am
31. Rockstar Lifestyle
32. Run The Money Up
33. Come Inside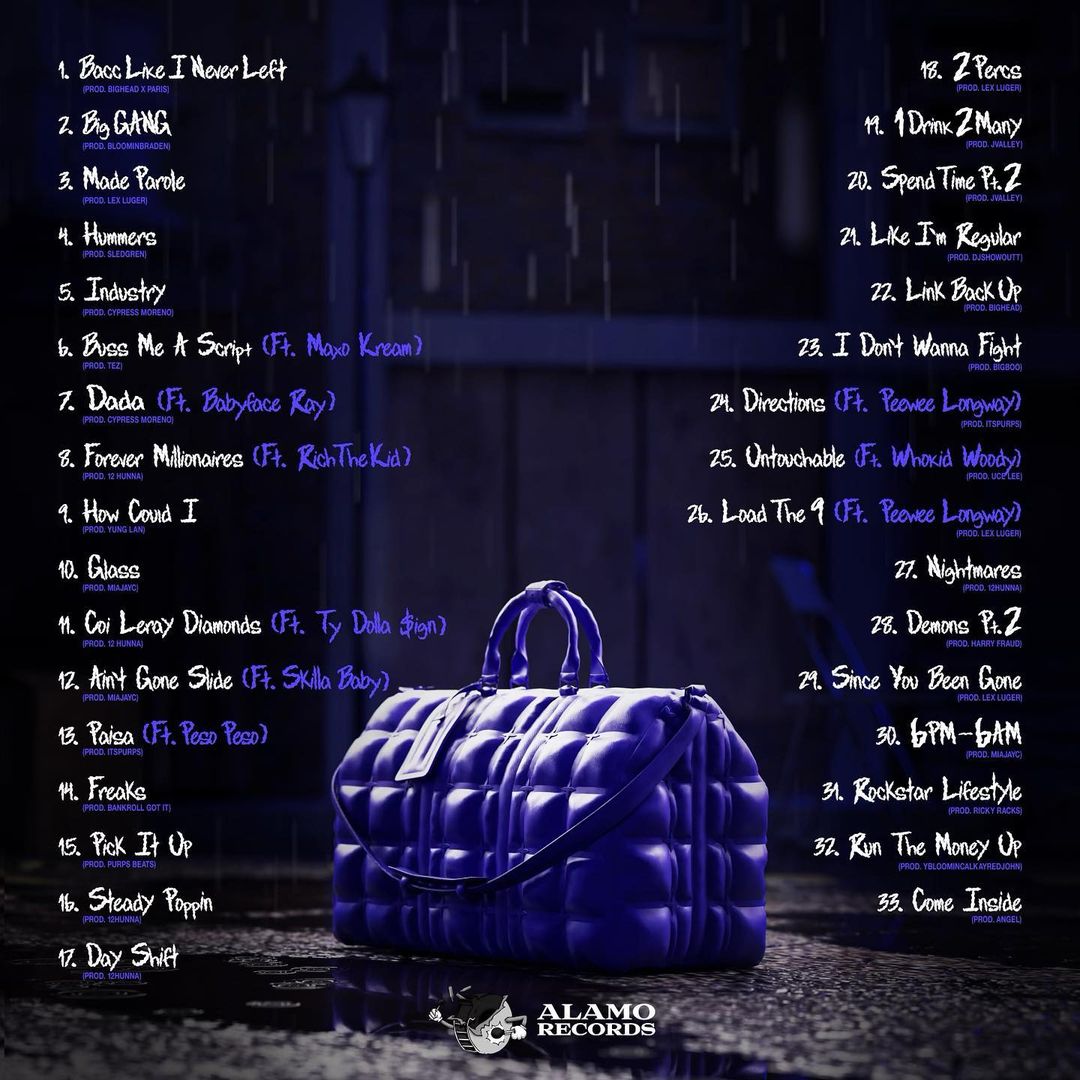 03 Greedo performs at Billboard's The Stage @ SXSW
(Credit: Christopher Polk for Billboard)
Download more photos HERE
Please contact Michelle or Kevin for more info.
The Background:
L.A. rapper 03 Greedo came into his own on a series of mixtapes that began with 2016's Purple Summer. His multi-faceted rhymes were heavy on references to drugs, struggle, and fame, and he churned out quality material at a prolific rate. He broke through to an even larger audience after signing a record deal, but not even a month after the release of his 2018 debut studio album God Level, he was sentenced to 20 years in prison for drug trafficking. He began serving his time in the summer of that year but issued a statement saying he intended to keep making and releasing new music while incarcerated. In 2019, Greedo released Still Summer in the Projects, the Kenny Beats produced project Netflix & Deal, with features from Freddie Gibbs, Vince Staples, Buddy and more, and in 2020, he dropped Load It Up, Vol. 01, produced by RonRonThe Producer. Greedo released his mixtape, Free 03, in January 2023, and returned with Halfway There, his first newly-recorded album since his release from prison, in March.
---
Links:
twitter | facebook | soundcloud | youtube | instagram
Halfway There: http://03greedo.lnk.to/halfwaythere
"Bacc Like I Never Left": https://03greedo.lnk.to/blinl / https://www.youtube.com/watch?v=2AIG2RdhV1M
Free 03: https://03Greedo.lnk.to/Free03
"Drop Down" ft. KenTheMan: https://03Greedo.lnk.to/DropDown
"Pourin" ft. BlueBucksClan: http://lnk.to/03greedo-pourin
03 Inna Key EP: http://smarturl.it/03InnaKey
"Substance (We Woke Up)" ft. Wiz Khalifa: http://smarturl.it/SubstanceRemix
"Bands In Da Basement" ft. Chief Keef: http://smarturl.it/BandsInDaBasement / https://youtu.be/y0cLzfv95oo
Load It Up Vol. 01 (w/ Ron-Rontheproducer): https://smarturl.it/LoadItUpVolume1
"Drip Keep Going" ft. Key Glock: https://smarturl.it/DripKeepGoing
"Baccstage" ft. Shordie Shordie & Wallie The Sensei: http://smarturl.it/Baccstage
"Home Vlone": https://smarturl.it/HomeVLone
Netflix & Deal: https://smarturl.it/netflixanddeal
Still Summer In The Projects: http://smarturl.it/SSITP
Project Genius: The Story of 03 Greedo: https://youtu.be/rBRUXenAVKc?t=0
03 Greedo x Mustard – "Trap House" ft. Shoreline Mafia:  https://youtu.be/JlE3BpBMIz4 // http://smarturl.it/TH03Greedo