8.14.2020
Project: 03 Greedo & Ron-Rontheproducer – Load It Up Vol. 01
With Help From Guests Like Chief Keef, Key Glock, and Sada Baby, the Watts Rapper Returns to the "Creep Music" Style That Won Him a Cult Following on the L.A. Streets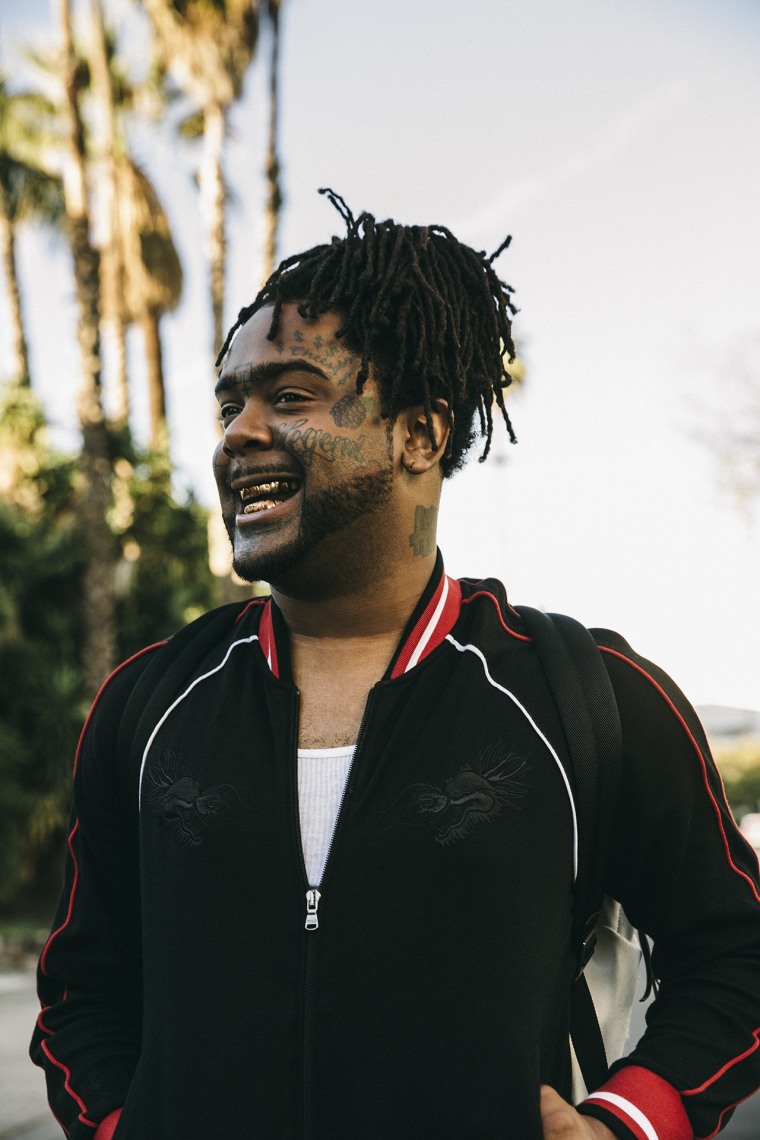 Critical Praise:
"The latest hope of Los Angeles hip-hop" – Rolling Stone
""The Watts rapper is an essential piece of West Coast rap" – Pitchfork
"Los Angeles street-rap weirdo 03 Greedo is one of the most exciting and inventive voices around right now, and he already released one of the best rap albums of the year" – Stereogum
"Literally no one else on Leonardo DiCaprio's green Earth talks flavorful cash sh*t as wonderfully as 03 Greedo." – Complex
"This mixtape is a step away from his usual sunny LA sound, but 03 Greedo knew what he was doing when he enlisted the help of Kenny Beats. This link up has resulted in an entertaining, yet simple record, the concept expertly executed. 'Netflix and Deal' is a cinema experience – minus the over-expensive snacks." – NME
The Project:
Before he was your favorite producer's favorite rapper, 03 Greedo built a loyal following in Los Angeles with his creeping and melodic take on the West Coast sound. Teaming up with frequent collaborator Ron-Rontheproducer for a full-length, Greedo returns to his roots with Load It Up Vol. 01, his percolating new project. Greedo and Ron-Ron have a long-standing relationship, coming together for some of Greedo's most beloved songs, including "Rude," and their near-telepathic chemistry shines as Greedo switches up his vocal modes to suit the simmering production.
The endlessly inventive rapper seamlessly switches between entrancing melodies and lockstep flows, showing off his hook-writing capabilities on recent single "Baccstage" ft. Shordie Shordie & Wallie The Sensei, dancing around snares on the burbling late night jam "Home Vlone," and mixing flows and melodies on the hard-hitting Chief Keef collab "Bands In Da Basement." Spanning 17-tracks, the project applies the raw creativity of Greedo's early "creep music" with the songwriting chops and mic presence of the locked-in Greedo who recorded thousands of songs before starting a prison sentence in 2018.
"This album is some real Greedo music, it gets back to what I was doing when I was coming up," says 03 Greedo. "I call it Creep Music. Creep music is the grimy sound of Watts. It's music for the people in the streets trooping, doing drugs, and tripping. I hope this tape helps people appreciate what Ron-Ron does as a producer. Nobody else can make creep music like he does and when we get together we shut it down. I've experimented with a lot of styles since my early days in Watts, but I've improved so much. This album is like a more polished version of the music I made when I was first starting out."
Undeterred by his extended prison stay in Amarillo, TX, Greedo released three new projects with high-profile producers in 2019. Packed with exciting guest stars and countless movie references, the Kenny Beats-produced Netflix & Deal garnered universal critical acclaim, named one of the best projects of 2019 by Complex, Vice, and DJ Booth. Earlier in the year, Greedo connected with Mustard for Still Summer In The Projects, home to the hit single "Trap House" ft. Shoreline Mafia (35 million Spotify streams) and named one of the best hip-hop albums of the year by UPROXX. Rounding out a year of big-name collaborations, Greedo shared Meet The Drummers, a collaborative EP with Travis Barker. Load It Up Vol. 01 continues Greedo's prolific output and proves that, despite his physical absence,  he's not going anywhere.
Buy/Stream Load It Up Vol. 01: https://smarturl.it/LoadItUpVolume1
Load It Up Vol. 01 tracklist:
1. Load It Up Intro
2. RonRon Load It Up
3. Closer Pt. 2
4. Home Vlone
5. My Lil Fantasy
6. Drip Keep Going feat Key Glock
7. Gwap feat. Z Money
8. Gucci Of My City feat. RalfyThePlug KetchyTheGreat & Desto Dubb
9. Choppa Hold A Hunnit
10. Never Heard feat Weezy Huncho
11. Mind Right feat Rob Vicious
12. Same Zone Interlude
13. Baccstage feat Shordie Shordie & Wallie The Sensei
14. Bands In The Basement feat Chief Keef
15. Scary Movie
16. Extradited
17. Across The Map feat Sada Baby
18. Miami Vacation
19. Call In feat Runway Richy & Rob Vicious
Please contact Michelle or Erin for more info.
---
Links:
twitter | facebook | soundcloud | youtube | instagram
Load It Up Vol. 01 (w/ Ron-Rontheproducer): https://smarturl.it/LoadItUpVolume1
"Drip Keep Going" ft. Key Glock: https://smarturl.it/DripKeepGoing
"Baccstage" ft. Shordie Shordie & Wallie The Sensei: http://smarturl.it/Baccstage
"Home Vlone": https://smarturl.it/HomeVLone
"Bands In Da Basement" ft. Chief Keef: http://smarturl.it/BandsInDaBasement
Netflix & Deal: https://smarturl.it/netflixanddeal
Still Summer In The Projects: http://smarturl.it/SSITP
Project Genius: The Story of 03 Greedo: https://youtu.be/rBRUXenAVKc?t=0
03 Greedo x Mustard – "Trap House" ft. Shoreline Mafia:  https://youtu.be/JlE3BpBMIz4 // http://smarturl.it/TH03Greedo