8.5.2020
Audio: 03 Greedo – "Backstage" ft. Shordie Shordie & Wallie The Sensei (Prod. by Ron-Ron)
The L.A. Rapper Shares a Laidback Slapper from His Upcoming Load It Up Vol. 01 Project, Produced in Full by Ron-Ron
Critical Praise:
"The latest hope of Los Angeles hip-hop" – Rolling Stone
"The Watts rapper is an essential piece of West Coast rap" – Pitchfork
"Los Angeles street-rap weirdo 03 Greedo is one of the most exciting and inventive voices around right now, and he already released one of the best rap albums of the year" – Stereogum
"Literally no one else on Leonardo DiCaprio's green Earth talks flavorful cash sh*t as wonderfully as 03 Greedo." – Complex
"This mixtape is a step away from his usual sunny LA sound, but 03 Greedo knew what he was doing when he enlisted the help of Kenny Beats. This link up has resulted in an entertaining, yet simple record, the concept expertly executed. 'Netflix and Deal' is a cinema experience – minus the over-expensive snacks." – NME
The Song:
A gifted melodist and natural emcee, 03 Greedo applies his unconventional mind to every track he blesses with his presence. Joining forces with two equally unconventional melodic emcees, Greedo shares "Baccstage," his latest single. Produced by Ron-Ron, who layers swelling synths atop minor-key electric piano and syncopated handclaps, "Baccstage" chronicles the late night hours at the end of a concert, when the liquor is flowing and everyone is still feeling the music. The song finds Greedo trading verses with two kindred spirits: Baltimore emcee Shordie Shordie, who slides over the beat with offers of easy romance, and Compton's Wallie The Sensei, who delivers impressive vocal acrobatics.
"Baccstage" is the third new single from Load It Up Vol. 01, Greedo's upcoming collaborative album with Ron-Ron. Last week, Greedo shared the simmering single "Home Vlone," which earned coverage in Pitchfork, UPROXX, Brooklyn Vegan, and more. "Home Vlone" followed up  "Bands In Da Basement," a rollicking collaboration with innovative driller Chief Keef. Greedo's follow-up to the Kenny Beats-produced Netflix & Deal, Load It Up Vol. 01 arrives later this month via Alamo Records.
Undeterred by his extended prison stay in Amarillo, TX, Greedo released three new projects with high-profile producers in 2019. Packed with exciting guest stars and countless movie references, Netflix & Deal garnered universal critical acclaim, named one of the best projects of 2019 by Complex, Vice, and DJ Booth. Earlier in the year, Greedo connected with Mustard for Still Summer In The Projects, home to the hit single "Trap House" ft. Shoreline Mafia (35 million Spotify streams) and named one of the best hip-hop albums of the year by UPROXX. Rounding out a year of big-name collaborations, Greedo shared Meet The Drummers, a collaborative EP with Travis Barker.
In addition to his prolific musical output, Greedo made his prison stay a productive one by earning his GED. With over 3,000 songs recorded, even jail time can't stop 03 Greedo from taking over the game. The rapper delivers multiple verses on Mafia Bidness, the new album by Shoreline Mafia. Stay tuned for Greedo and Ron-Ron's Load It Up, Vol. 01 to hit the Internet during this Purple Summer.
Buy/Stream "Baccstage" ft. Shordie Shordie & Wallie The Sensei: http://smarturl.it/Baccstage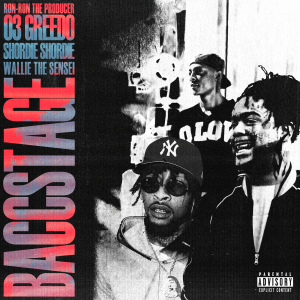 Please contact Michelle or Erin for more info.
---
Links:
twitter | facebook | soundcloud | youtube | instagram
"Baccstage" ft. Shordie Shordie & Wallie The Sensei: http://smarturl.it/Baccstage
"Home Vlone": https://smarturl.it/HomeVLone
"Bands In Da Basement" ft. Chief Keef: http://smarturl.it/BandsInDaBasement
Netflix & Deal: https://smarturl.it/netflixanddeal
Still Summer In The Projects: http://smarturl.it/SSITP
Project Genius: The Story of 03 Greedo: https://youtu.be/rBRUXenAVKc?t=0
03 Greedo x Mustard – "Trap House" ft. Shoreline Mafia:  https://youtu.be/JlE3BpBMIz4 // http://smarturl.it/TH03Greedo