12.20.2019
Video: Yung Mal – "Stashed In The Vent"
The 1017 Eskimo Rapper Shows Off His Flashy Flow as He Gets Lit in Zone 6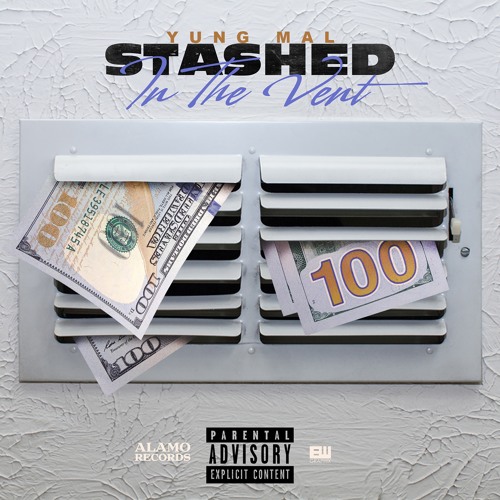 The Video:
Reppin' hard for Zone 6, Yung Mal has ATL's freshest flow. Showing off his hunnids with some help from his friends, Mal shares "Stashed In The Vent," his new video. Unleashing a torrent of his best bars, Mal dances around the edges of the beat by producers ATP and Diggxn, sprinkling his witticisms atop skittering percussion and mournful violin: "Came out the mud/N****, Ion need nobody/But these muf*ckin' hunnids inside of my pocket." In the video, the 1017 Eskimo signee balls with his brothers, taking over the trap house and rocking a series of designer hoodies. "Stashed In The Vent" follows "Juggernaut," a new single produced by Kappa (Gucci Mane, Lil GotIt). and "Started Actin' Funny," Mal's bite-sized banger that inspired a video with appearances from BlocBoy JB and NLE Choppa.
Earlier this year, the emcee known for his work with fellow Zone 6 rapper Lil Quill shared Iceburg, his debut solo mixtape. he mixtape hosted a long line of successful singles, including the recent "Toothpaste," the Gunna-featuring "War" (522k views), the head-nodding lyrical exercise "#'s", the Gucci Mane-featuring, Complex-premiered "Fresh", and the exotic slapper "Action," featuring Lil GotIt, produced by Pi'erre Bourne, and premiered by HYPEBEAST. Featuring additional appearances from King Von and Lil Quill, Iceburg is available to stream everywhere via 1017 Eskimo/Alamo Records.
Watch "Stashed In The Vent": https://youtu.be/QQ5532nan4c
Buy/Stream "Stashed In The Vent": http://smarturl.it/stashedinthevent
Please contact Michelle or Kierra for more info.
---
Links:
twitter | facebook | soundcloud | youtube | instagram | spotify

"Stashed In The Vent": https://youtu.be/QQ5532nan4c
"Juggernaut": spotify | youtube | apple
"Started Actin' Funny": https://smarturl.it/YMSAF
"Toothpaste": https://youtu.be/1m6LQ7dOhWM
"War" ft. Gunna: https://youtu.be/I513CVVMYsE
"Trayvon": https://youtu.be/fEKJXTOgbwk
Iceburg: https://smarturl.it/7gzhud
"Action" ft. Pi'erre Bourne & Lil GotIt: https://smarturl.it/1ddct7 / https://youtu.be/wh-QcK8xdXA
"#'s": https://www.youtube.com/watch?v=P5JxGl0kl8Q
"Fresh" ft. Gucci Mane: Spotify | Apple | Google | Soundcloud
"Harder Than Hard": https://youtu.be/CVM_QX5Hipw
Blessed Lil Bastards 3 (w/ Lil Quill): https://open.spotify.com/album/6Xs1vqqWHxy0SApVCjFqHy?si=WtprXm2NRZeIozQT7IyviA / https://itunes.apple.com/us/album/blessed-little-bastards-3/1446187872 / https://soundcloud.com/yungmalandlilquill/sets/blessed-lil-bastards-3
Souf6 (w/ Lil Quill): https://open.spotify.com/album/3so8mekyaUUGYjZNhUTZ8a?si=hYUPGBADTWGpC6zr8Hb-zQ
"Been In My Bag" (w/ Lil Quill): https://www.youtube.com/watch?v=9F2y-G3PdiM