4.29.2021
Now Streaming on Netflix
YASUKE
All-New Original Anime by LeSean Thomas and Studio MAPPA
Starring and Executive Produced By LaKeith Stanfield, With Music by Flying Lotus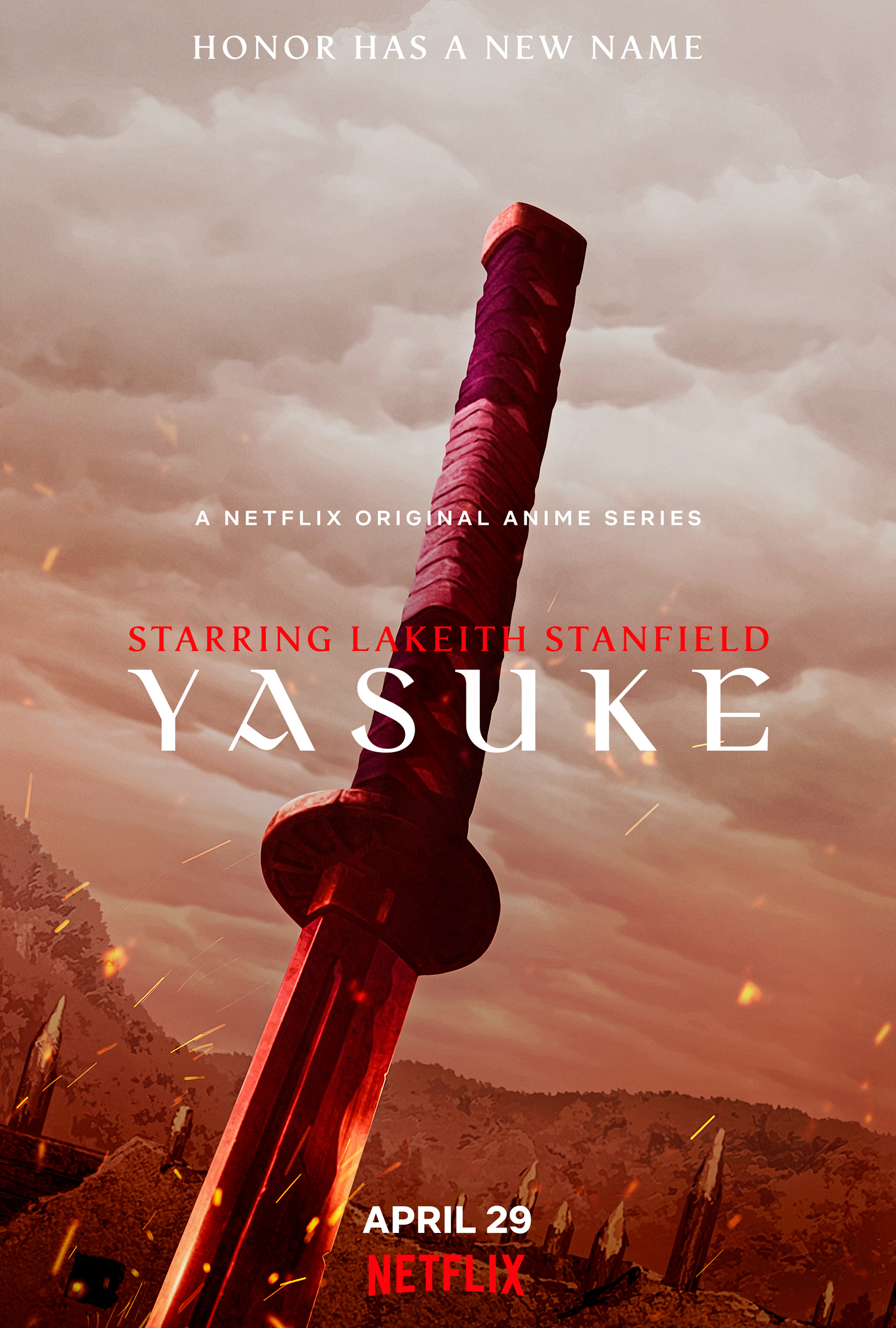 A thrilling and unique new anime from Netflix and Studio MAPPA, LeSean Thomas's Yasuke transcends borders, cultures, and language with an action-packed fable about a legendary samurai. Set in an a fantastical alternate version of feudal Japan, filled with warlords, sorcerers, and wise-cracking robots, the 6-episode series follows the travels of Yasuke, voiced by LaKeith Stanfield, a samurai of African descent who must return to his life of sword-fighting and violence in order to protect a mysterious girl from dark forces. With music from Flying Lotus enhancing the show's starkly beautiful animation, Yasuke is an anime like no other, powered by a diverse cast, a compelling lead character, and a classic story of a perpetual outsider's attempt to live an honorable life.
Watch Yasuke now on NETFLIX
Watch the trailer HERE
Check out the Complex trailer premiere 
HERE
Download key art HERE
Download stills HERE
Yasuke Info:
Release Date | April 29th, 2021
In a war-torn feudal Japan filled with mechs and magic, the greatest ronin never known, Yasuke, struggles to maintain a peaceful existence after a past life of violence. But when a local village becomes the center of social upheaval between warring daimyo, Yasuke must take up his sword and transport a mysterious child who is the target of dark forces and bloodthirsty warlords.
Yasuke is created by LeSean Thomas (Cannon Busters) who also serves as executive producer and director, revered Japanese animation studio MAPPA (Attack on Titan: The Final Season, Jujutsu Kaisen), with director and animator Takeshi Koike (Lupin the Third: The Woman Called Fujiko Mine) responsible for character designs, music by Grammy Award-nominated artist Flying Lotus and award-winning actor LaKeith Stanfield serving as executive producer and the voice of Yasuke.
Additional voice cast includes:
Nobunaga – Takehiro Hira
Saki – Maya Tanida
Natsumaru – Ming-Na Wen
Morisuke – Paul Nakauchi
Haruto – Darren Criss
Nikita – Julie Marcus
Achoja – William Christopher Stephens
Ishikawa – Dia Frampton
Abraham – Don Donahue
Daimyo – Amy Hill
Kurosaka (Dark General) – Noshi Dalal
Additional staff includes:
Chief Animation Director: Satoshi Iwataki
Chief Technical Director: Takeru Sato
Sub-character Design: Kenichi Shima
World Art Design & Art Settings: Minoru Nishida
Art Director: Junichi Higashi
Color Setting: Azusa Sasaki
3D CGI Director: Yuki Nomoto
Photography: Park Hyo-gyu
Editing: Mutsumi Takemiya

---
Contact:
For press inquiries regarding Yasuke, please contact Kevin or Andrea
If interested in viewing a pre-release screener, please email netflix@audibletreats.com
---
About Netflix:
Netflix is the world's leading streaming entertainment service with 204 million paid memberships in over 190 countries enjoying TV series, documentaries and feature films across a wide variety of genres and languages. Members can watch as much as they want, anytime, anywhere, on any internet-connected screen. Members can play, pause and resume watching, all without commercials or commitments.
---
Links:
Netflix Media Center: https://media.netflix.com/