Video: Tez McClain – "Art vs Hustle"

04.15.2013
Atlanta Rapper Drops New Video From Recently Released Record Scoundrel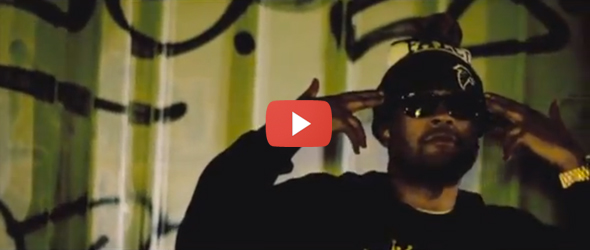 The Video:
Atlanta emcee Tez McClain released his most recent record, Scoundrel, just over a month ago and has since released videos for "By Any Means" and "Flick'n," the latter of which just debuted as the New Joint Of The Day on BET's 106th & Park this past Friday. Today, he is releasing the video for "Art vs Hustle," which was produced by Natural Disaster and was directed by Raw Work Films. The video was premiered this morning by The Smoking Section.

The song's subject matter is as deep as the songs flow is smooth. In "Art vs Hustle," Tez questions the exaggeration and glorification of the empty culture he sees behind "hustling" and the rappers who exploit to stay on top. Tez raps, "You can't write your shit / Let alone wife a chick / But you can fuckk his bitch / That's a hit that'll likely stick." While definitely criticizing the darker sides of fame, Tez bring it back to how this "hustling" impacts people closer to him with lines like "You too old to be broke as hell / College graduate and why the fuck you got dope for sale?" It's a tightrope that rappers like Tez walk, trying to play the game yet keep their integrity. Tez ends his verse leaving us with this: "Art versus hustle, it may be a split decision."

Watch the video for "Art vs Hustle" here: http://www.youtube.com/watch?v=vuiyscKcDjo

Check out the Smoking Section premiere: http://smokingsection.uproxx.com/TSS/2013/04/tez-mcclain-art-vs-hustle-video

Download Scoundrel here: http://t.opsp.in/e0h3m




Please contact Michelle or Dan if interested in talking with Tez McClain.


Streams:

"Art vs Hustle"
http://www.youtube.com/watch?v=vuiyscKcDjo

"Flick'n"
http://www.youtube.com/watch?v=vtF7HtVOFBY

"By Any Means"
http://www.youtube.com/watch?v=X59i6RCNbNs

Scoundrel
http://t.opsp.in/e0h3m

Bio, pictures, and streams available here:
http://www.audibletreats.com/download/tez-mcclain

Website
http://tezmcclain.com/

Facebook
https://www.facebook.com/TezMcClain

Twitter
https://twitter.com/tezmcclain

Instagram
http://instagram.com/TezMcClain

Youtube
http://www.youtube.com/user/TezMcClain

Bandcamp
http://tezmcclain.bandcamp.com/



Audible Treats, Ltd.
98 4th Street, Suite 317 | Brooklyn, New York 11231 | 718-768-7275
www.audibletreats.com
© Copyright 2013
All Rights Reserved