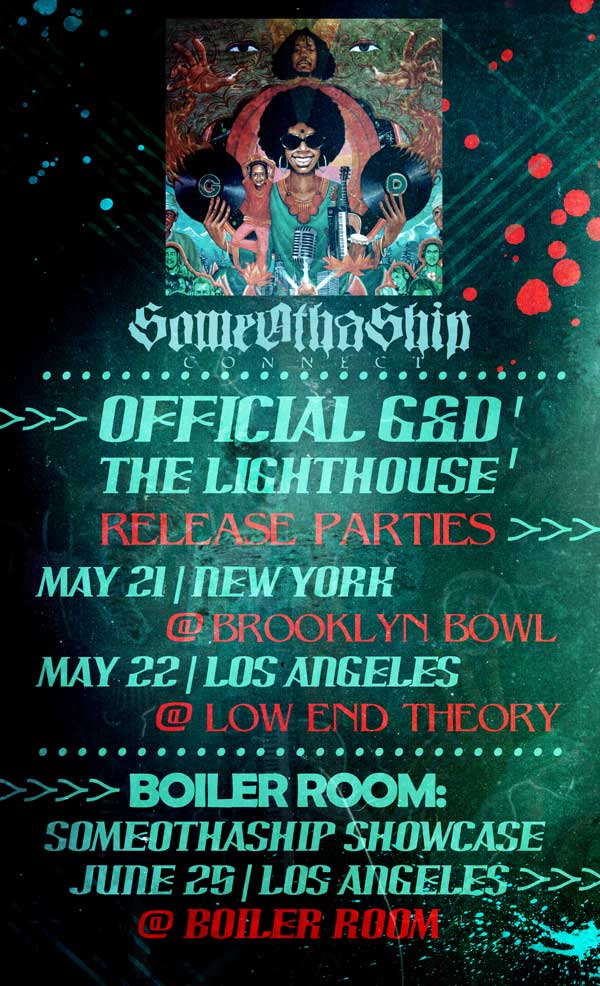 Critical Praise For G&D:



"[She's] an enormously promising young talent." -NPR

"Maintaining a stinging originality in a world of musical predictability bless the Jah Jah and Dudley - the freshest bloodlines in the game today." -Gilles Peterson, renowned DJ, BBC



The Song:



Husband and wife duo, Georgia Anne Muldrow & Dudley Perkins will release their new album, The Lighthouse, this coming Tuesday, May 21st, on the duo's own label, SomeOthaShip Connect. Before then, NPR's First Listen has premiered The Lighthouse album stream, which can be heard on NPR's website. To celebrate the release of The Lighthouse, G&D will perform at Brooklyn Bowl in New York on May 21 at Low End Theory in Los Angeles on May 22; the duo will also host a SomeOthaShip label showcase as part of the illustrious Boiler Room TV series on June 25th with DJ Romes, Ill Camille, Mykestro and Kan Kick.

Thanks to the combination of Georgia's smooth yet powerful vocals and Dudley's flowing rhymes, the album is a funk infused soul collective, which brims brightly with themes of love, peace and positivity, while also approaching issues of war, family, and social responsibility. Upon hearing all of the eclectic record's soulfully crafted 17 tracks NPR Editor Stephen Thompson remarked, "The Lighthouse does its best, while still taking care to careen in countless directions at any moment."


Stream the album here: http://www.npr.org/2013/05/12/182912777/first-listen-g-d-the-lighthouse

Pre-order the album via iTunes: https://itunes.apple.com/us/album/the-lighthouse/id624733767

Pre-order the album via Bandcamp: http://someothaship.bandcamp.com/album/the-lighthouse

Upcoming shows:

NYC: 5/21 @ Brooklyn Bowl: http://www.brooklynbowl.com/event/257483-georgia-anne-muldrow-dudley-brooklyn/
LA: 5/22 @ Low End Theory: https://www.facebook.com/events/138148336354763/

LA: 6/25 @ Boiler Room: https://www.facebook.com/events/264445733699131/





Please contact Michelle or Dan if interested in talking with Georgia Anne Muldrow & Dudley Perkins.



The Background:



Georgia Anne Muldrow & Dudley Perkins a.k.a. Declaime unite as G&D. Not just singer, songwriter and rapper, the duo are also esteemed producers and owners of their independent label SomeOthaShip Connect. For the past seven years, the couple has worked to perfect their craft as solo artists and as a team. Perkins is known for works like Conversations With Dudley, A Lil Light, Expressions, and Holy Smokes and has worked with artists like The Lootpack, Madlib, Oh No, The Alkaholiks, Flying Lotus and Hudson Mohawke. Muldrow's catalog includes Worthnothings, Umsindo, and Kings Ballad and has a similarly diverse group of collaborators like Erykah Badu, Robert Glasper, Mos Def, Bilal, Wajeed, Sa-Ra and many other independent acts. Currently based out of Las Vegas, the couple are strict vegans, lead a healthy lifestyle and use the music of G&D as a way to uplift the vibration of consciousness. Their sophomore album The Lighthouse will be released on May 21st and follows 2010's SomeOthaShip.