News: Dizzy Wright Voted In By Fans To Be Member of the XXL Freshmen Class of 2013

03.27.2013
Dizzy Scores the Coveted "People's Choice" Position for One of Hip-Hop's Most Talked About Topics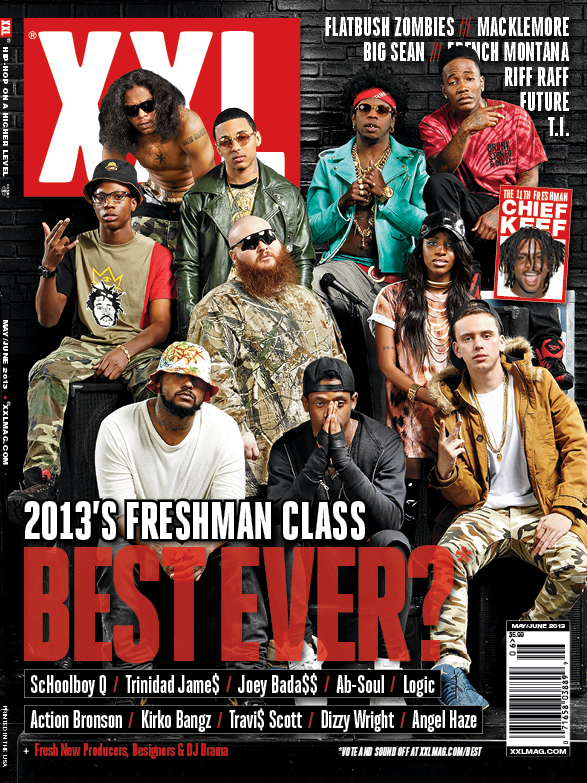 The News:



(March 27, 2013, New York, NY) - Funk Volume's 21-year old Las Vegas-based rapper Dizzy Wright has been named the "People's Champ" winner of the 10th spot in XXL Magazine's coveted Top 10 Freshmen list. The annual list is comprised of 10 solo rappers who are chosen as the next artists to attain mainstream success and is regarded as one of the most widely discussed and debated lists issued by a music publication. Dizzy's rank as the "People's Choice" winner is especially impressive since that position is the only one that is not chosen by the editorial staff; fans overwhelmingly voted Dizzy Wright into the winning spotlight out of a list of over 50 artists.

Says Dizzy, "Being chosen for the Freshmen List means everything to me. I made a commitment to myself in 2011 to aim for it and starting in 2012, I really pushed hard for it; I released my best music, went on three tours, and released consistent visuals. My fans responded and for that, I thank them." Hard work and staying humble is one of Dizzy's strongest personality traits. Despite having an impressive fan following (88k on Twitter, 127k on Facebook,) Dizzy knows he's a new name to many and welcomes the challenge of having the rest of the industry take notice. Says Dizzy, "I've always had to prove myself. I work super hard, I'm confident in my craft, and I'm actually excited about all the muthfuckas who don't believe in me because I'm ready to gain new fans and kill it."

One of the most successful independent hip-hop labels in existence today, Funk Volume is stealthily gaining traction and has the numbers to prove it with over 160k Facebook "Likes" and over 30M YouTube views on their channel while labelmate Hopsin boasts having over 105M YouTube views and 408k YouTube subscribers. Editor-in-Chief of XXL Magazine, Vanessa Satten, remarked, "Dizzy Wright won the XXL Freshmen's People's Choice slot on the list this year with a huge amount of votes. It was great to see a new MC have fans come out and rep so hard for them. A lot of artists had big numbers based on their self-made fan bases this year but Funk Volume took the win! That's two Freshmen from that camp so far!" Funk Volume now joins the ranks of only a handful of other independent labels to have multiple Freshmen, including Top Dawg Entertainment (Jay Rock, Kendrick Lamar, ScHoolboy Q, Ab-Soul) Fool's Gold (Donnis, Danny Brown,) Cinematic Music Group (Big K.R.I.T., Joey Bada$$) and Rostrum Records (Wiz Khalifa, Mac Miller.) Funk Volume plans to release albums from Jarren Benton, Dizzy Wright, Hopsin, and SwizZz this year as well as a documentary film about the label.

Check out the cover here: http://www.xxlmag.com/news/2013/03/xxl-freshman-class-2013-cover-revealed/





Please contact Michelle or Dan if interested in talking with Dizzy Wright.



Dizzy Wright Background:



Not many 21-year old rappers can say that they've been rapping for over a decade. Las Vegas, Nevada, Rapper Dizzy Wright began rapping at just 8 years old, in the group "DaFuture" with his brother and very close friend – his mother wrote his raps at the time. Dizzy broke through when he was discovered at the Sheikh Music "Rip the Mic" competition in 2010 and signed onto Funk Volume a few months later. In April 2012, Dizzy released his first Funk Volume album, SmokeOut Conversations, peaking at #2 on the iTunes Hip-Hop charts which he followed up with a free mixtape, Free SmokeOut Conversations, which has been downloaded over 200,000 times, and helped propel Dizzy to his own national 30-city tour. In December 2012, Dizzy went on to release the first of four EPs, The First Agreement, which reached as high as #2 on the iTunes Hip-Hop chart. In March of 2013, Dizzy gathered enough votes to be selected as the "People's Choice" member of the XXL Freshman Class of 2013. Dizzy is showing no signs of slowing down as 2013 looks to be his biggest year yet



Funk Volume Background:



Funk Volume is a record label, marketing and production company founded to give hip hop artists a home to freely express themselves without feeling controlled or pressured by any other outside forces. Currently home to Hopsin, SwizZz, Dizzy Wright, Jarren Benton and DJ Hoppa, Funk Volume's plan is to represent only the sickest, most talented, and most creative artists that we can find. The label's objective is to produce music that it feel competes with any other artists or labels in the industry. Funk Volume is not a "movement", not a "gang", not a "squad." Funk Volume is a commitment – to protect the integrity of the music and conduct our business properly. It is a commitment to hip-hop, to its fans, and to each other.



"Maintain":
http://www.youtube.com/watch?v=V2eb2nAgono

"Verbalizing":
http://www.hotnewhiphop.com/video.9125.html

Facebook:
http://www.facebook.com/DizzyWright

Twitter:
https://twitter.com/DizzyWright

Official Website:
http://myfunkvolume.com/

Youtube:
http://www.youtube.com/user/FunkVolume


Audible Treats, Ltd.
98 4th Street, Suite 317 | Brooklyn, New York 11231 | 718-768-7275
www.audibletreats.com
© Copyright 2013
All Rights Reserved