MP3: Brown Shoe - "Diving Bell"

10.12.2011
Brown Shoe Get Lost In The Sound On New Single "Diving Bell"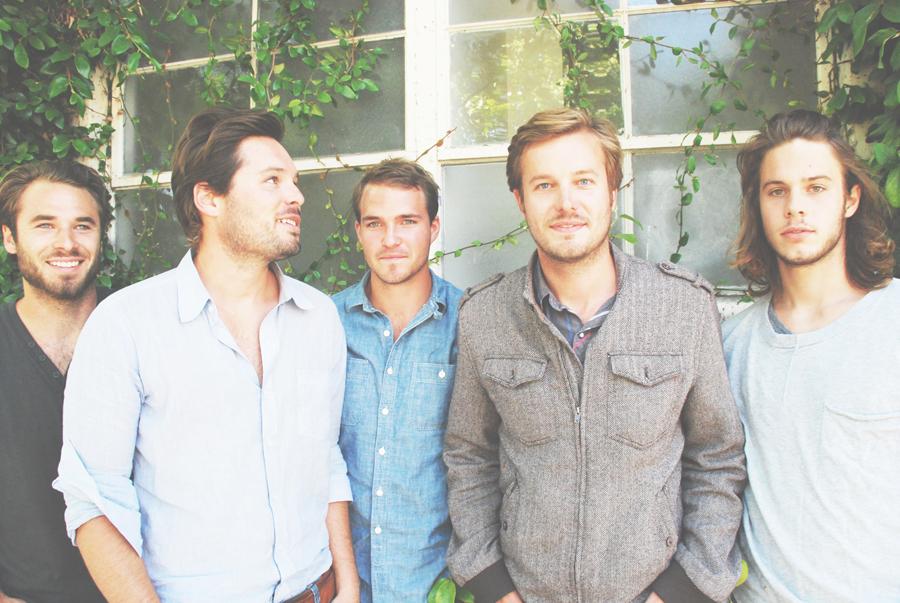 Critical Praise for Brown Shoe:

"Take Band of Horses, sprinkle a little bit of Fleet Foxes, mash it all together in indie music goodness and you have yourself Brown Shoe." - EARMILK

"They might have a few albums under their belt but Brown Shoe is going to make an impact as something new we all learned about after their release of their newest album The Gift Horse (out Oct 18th)." - The Music Savage

"So maybe one of the reasons why I'm loving Brown Shoe is that they are four good looking brothers (and a family friend for good measure) from Northern CA, which - as you might know - is where I call home. Plus, some of their music has even been described as "California-sun tinged Bon Iver" - which is a good enough reason for giving their music a listen... at least, I think so." - Indie Shuffle



The Song:



While first single "Colt Rider" exposed Brown Shoe's punchy and quick-to-the-point style of songwriting, "Late Nights", the band's second single, scaled things back a notch. Brown Shoe's latest single "Diving Bell", off of their highly anticipated fourth album The Gift Horse, is a culmination of both ends of that musical spectrum, which makes sense, considering the fact that it was the first song written for the album.

"We were just coming off three national tours and had so many ideas" guitarist Aaron Baggaley says. " We had all this bottled up excitement that we sort of just took out on the song it and it ended up giving us a great jumping off point for how the rest of the record was going to feel. It definitely set the atmosphere for where we were going and how we were gonna get back."

Being the second longest song on the album, "Diving Bell" as a single may seem a little daunting at first, but as the song progresses, and the layers unfurl, it becomes evident that Brown Shoe are really onto something with this one. A stammering, repetitive percussion roll matched with an identical strum pattern on acoustic guitar drive the song's forceful nature all the way through, eventually leading to a buildup for the ages.

Grab "Diving Bell" Here: http://media.audibletreats.com/Brown_Shoe-Diving_Bell.mp3

Please post buy links (name-your-own-price via Bandcamp): http://brownshoe1.bandcamp.com




Please contact Chris if interested in talking with Brown Shoe.



The Background:



Brown Shoe is made up of four brothers-Aaron, Bryson, Ryan and Landon Baggaley-and Chandler Clemons who might as well be a brother. Their previous three albums received broad radio play, charted on CMJ, and garnered numerous TV placements. In recent years Brown Shoe has crisscrossed North America a number of times, playing festivals, clubs, and colleges, winning over a diverse fan base across the country. After touring in support of Jackalope, Brown Shoe decided it was time to get back in the studio and begin recording the manically expansive and treacherous tale, The Gift Horse to be released fall 2011.


Streams:

"Diving Bell":
http://media.audibletreats.com/Brown_Shoe-Diving_Bell.mp3

"Late Nights":
http://media.audibletreats.com/Brown_Shoe-Late_Nights.mp3

"Colt Rider":
http://media.audibletreats.com/Brown_Shoe-Colt_Rider.mp3

Bio, pictures, and streams available here:
http://www.audibletreats.com/download/brown_shoe/

Facebook:
http://www.facebook.com/BrownShoeMusic

Twitter:
http://twitter.com/brownshoemusic

Myspace:
http://www.myspace.com/brownshoe

Official Site:
http://brownshoemusic.com/


Audible Treats, Ltd.
98 4th Street, Suite 317 | Brooklyn, New York 11231 | 718-768-7275
www.audibletreats.com
© Copyright 2011
All Rights Reserved